One American made product is the pecan nut. Both cost competitive as well as a reliable supply the pecan is one nut produced in America. There are close to 30 different varieties of pecans grown in America The state of Georgia is top of the list as the nation's top producer. Each year Georgia grows an estimated 100 million pounds of pecans each year
November is National Georgia Pecan Month. While pronunciation may differ from "pea-can" or "pu-cahn" the one thing that is agreed is that they are delicious and can be used in a great variety of ways. Some facts about pecans include: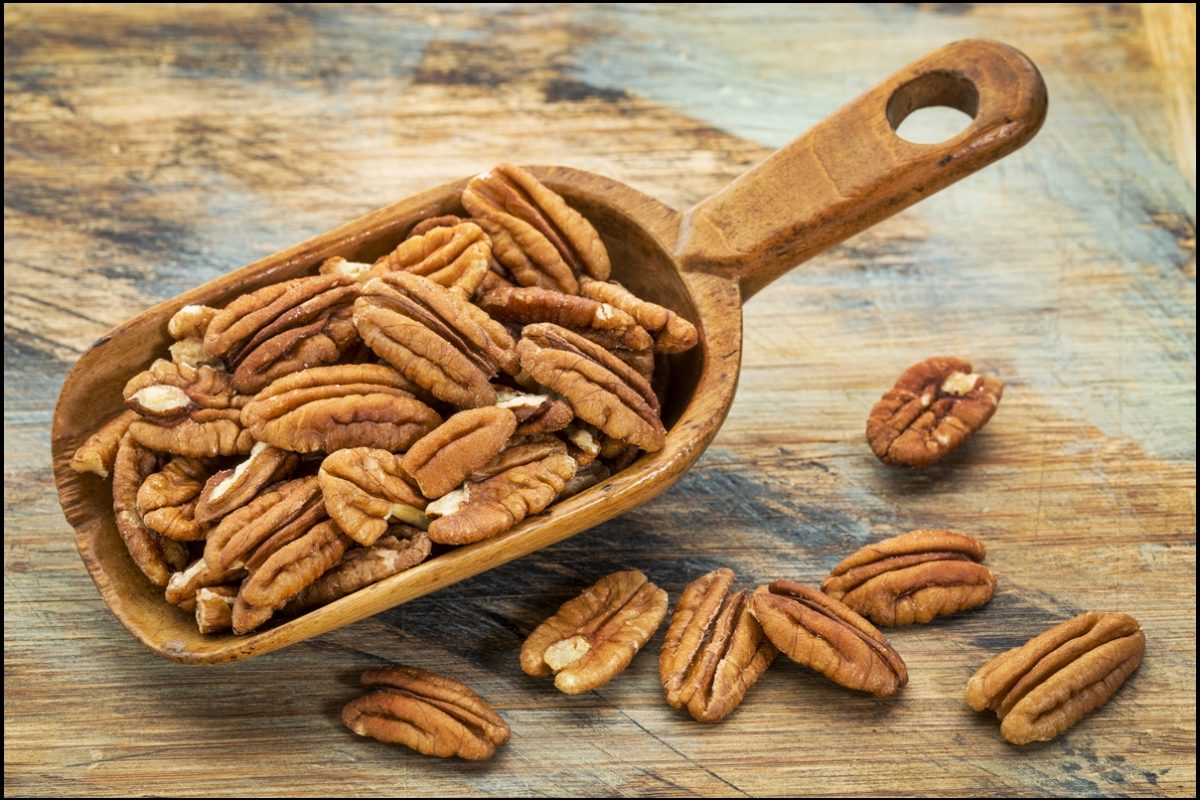 In an average pecan pie you will find around 78 pecans
Pecans are the only tree nut that is native to the United States
Georgia is the top producer of pecans in the United States. Georgia has been producing and selling their nuts since pre 1800.
An acre can produce 1000 pounds of pecans
1 cup pecans
½ teaspoon salt
¼ teaspoon black pepper
½ cup panko breadcrumbs
½ cup flour
2 large eggs
4 pork chops, about 1 inch thick
2 tablespoons olive oil
2 tablespoons butter
Preheat an oven to 350 degrees Fahrenheit.
Spread the pecans on the baking sheet and bake on a medium rack for about 5 minutes, until lightly toasted. Let the pecans cool.
Turn the oven up to 375 degrees Fahrenheit.
Once the pecans have cooled, chop them finely.
In a shallow bowl add the pecans, salt, pepper, and breadcrumbs. In another shallow pan add the flour. In a 3rd shallow pan crack the eggs and whisk.
In a frying pan, over medium heat, add the olive oil and butter. (Note: if all of the pork chops will not fit in the pan at the same time, only put half of the olive oil and butter and repeat the next step with half of the pork chops at one time) Dredge a pork chop in the flour, then the egg, then the pecans. Place the pork chops in the frying pan and cook 3-4 minutes each side.
Place the pork chops in a baking dish and add any olive oil from the frying pan to the baking dish. Bake in the oven for 12-15 minutes, making sure the pecans don't burn.
recipe source
here
retweet post
here
shared on facebook
here
shared this post at these blog hops, parties and linkups
saturday sharefest
shared this post at these facebook group linkups
blog support ===
blog comment 11/17-11/18