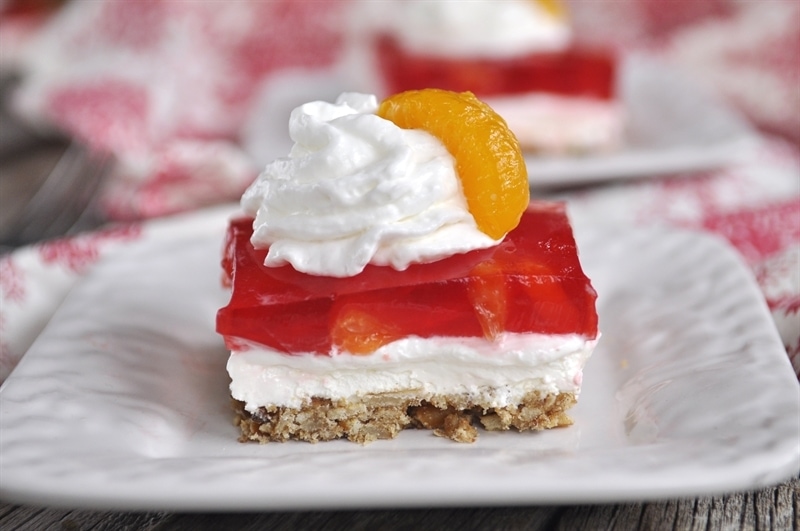 Delicious layered dessert that offers many of the flavors that helps us love Thanksgiving
3 T brown sugar
1/2 tsp pumpkin pie spice
1/2 c butter, melted
2 c boiling water
1 6 oz pkg cranberry flavored jello
1 1/4 to 1 1/2 c cold water
11 oz. mandarin oranges, drained and juice reserved
8 oz. pkg cream cheese, soft
1 c granulated sugar
8 oz. ctn whipped topping , thawed
Heat oven to 350 degrees. Spray a 9 x 13 pan with cooking spray
Put pretzels in a plastic bag and crush with a rolling pin.
Put into bowl and combine with brown sugar and pumpkin pie spice.
Stir in butter.
Press mixture into bottom of pan and bake for 9 mimutes. Cool
In a large pan bring 2 C water to a boil. Add gelatin and stir until dissolved.
Add in enough cold water to reserved juice to equal 2 cups. Stir in to gelatin.
Refrigerate until partially set and thickened about 2 hours.
In a mixer beat cream cheese and granulated sugar until smooth and fluffy.
Fold in whipped topping.
Spread mixture over pretzel crust
Chop mandarin oranges and add into thickened gelatin.
Carefully pour over cream cheese mixture.
Return to refrigerator and allow to totally set up.