Las Posadas is a religious festival that is celebrated by Spanish believers. The dates between December 16th and 24th will see the festival in Mexico and around the states. Las Posadas brings attention to the time period when Joseph and Mary traveled from Nazareth to Bethlehem in order so Mary could give birth. The baby would be named Jesus and he would be born in a stable as all the Inns were full.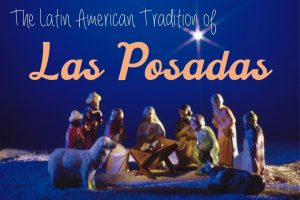 One dish that may be served may be
1 tablespoon olive oil
4 ounces Mexican chorizo, casing removed
5 cups chopped romaine lettuce
1/2 cup Del Monte® Whole Kernel Sweet Gold and White Corn, drained
1/2 cup canned black beans, drained and rinsed
1 roma tomato, diced
2 tablespoons chopped fresh cilantro leaves
1 avocado, halved, seeded, peeled and diced
1/4 cup shredded cheddar cheese, for garnish
1/4 cup tortilla strips, for garnish
FOR THE LIME VINAIGRETTE
1/4 cup olive oil
1/4 cup apple cider vinegar
Zest of 1 lime
2 tablespoons freshly squeezed lime juice
2 teaspoons sugar, or more to taste
To make the vinaigrette, whisk together olive oil, apple cider vinegar, lime zest and juice, and sugar in a small bowl; set aside.Heat olive oil in a large skillet over medium high heat. Add chorizo and cook until dry and crisp, about 2 minutes, making sure to crumble the chorizo as it cooks; let cool.
To assemble the salad, place romaine lettuce in a large bowl; top with chorizo, corn, black beans, tomato and cilantro. Pour the dressing on top of the salad and gently toss to combine. Stir in avocado.Serve immediately, garnished with cheese and tortilla strips, if desired.
Shared at