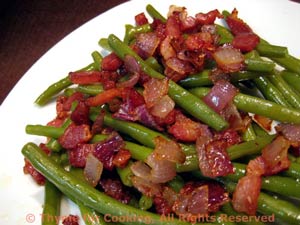 serves 2
2 slices bacon, 16gr, .56oz, cooked, drained
1 - 2 shallots, 45gr, 1.6oz
6oz green beans, 170gr, 6oz
Top and tail beans - cut off the ends. Cut into 1 1/2 inch lengths (4cm).
Chop shallots.
Sauté bacon in small frying pan. When bacon is crisp remove and crumble.
Drain all but 1 tbs fat from pan. Add shallots and sauté until transparent.
Add beans, 1/4 cup of water, turn heat to low, cover and simmer until done - about 15 minutes. If beans dry out add a little more water.
When done transfer to serving bowl (there should be little or no liquid left - if there is just pour it off). Add crumbled bacon and serve.
shared on facebook at
blog support