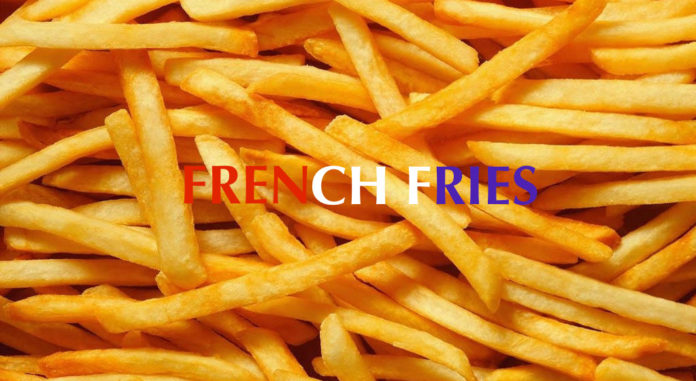 French fries, french fried potatoes, chips, finger chips the name of these tasty potatoes go on and on. They are loved world wide and are celebrated on the date of July 13 during French Fries celebrations. French fries differ from the thinly sliced potato chips of America as fries are potatoes cut to various thicknesses and fried in oil. They go great with many different meals and are often golden in color.
The history of French Fries started in Belgium. Proof of the fact was found in a family manuscript dated 1781 and states that the potatoes were originally cut into the shape of fish and served in place of fish. The story goes the river had frozen over and the fish that they would normally have could not be caught.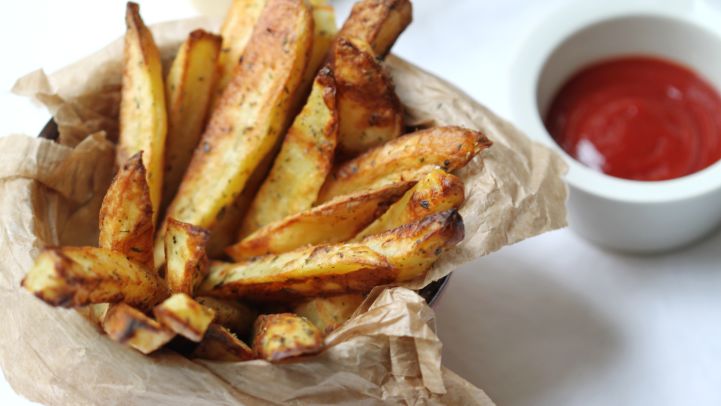 Troops during World War I tried some of these belgian fries. The language of the Belgian army was French and the men thought they were in France and called them French Fries. The fact is that french fries are loved world wide no matter what they are called. But who has the most tastiest?? That is yet another question to be held.
It seems no two restaurants have the same recipe for French fries. So why not take the date to try several different selection of fries to find your favorite. It is estimated that 2 million tons of french fries are consumed each year, that is roughly 20 to 30 lbs per individual. The condiments that can top of fries are just as plentiful.
The top 5 favorite condiments in a recent survey were as listed
#1: Ketchup (55%)
#2: Ranch (15%)
#3: Cheese sauce (8%)
#4: Barbecue sauce (7%)
#5: Mayo (4%)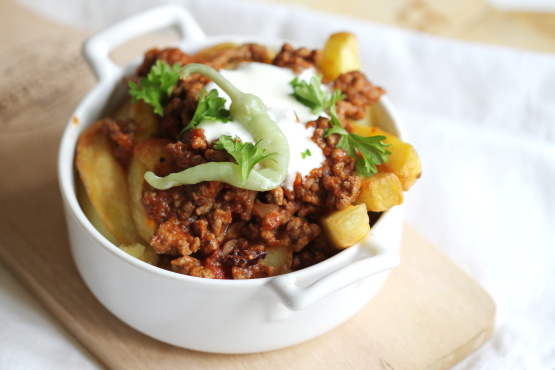 2 tablespoons vegetable oil
2 cups chopped yellow onions
salt
cayenne
2 lbs ground beef
1 tablespoon chili powder
2 teaspoons ground cumin
crushed red pepper flakes
2 teaspoons dried oregano leaves
2 tablespoons chopped garlic
3 cups canned diced tomatoes
2 tablespoons tomato paste
3 cups beef broth
3 -4 tablespoons masa harina flour
1 (1/2 lb) bag frozen french fries or 1 (1/2 lb) bag waffle-shaped French fries
1⁄2 lb grated cheddar cheese
1⁄2 lb grated monterey jack cheese
1 cup sour cream
1⁄2 cup sliced pickled jalapeno pepper
Season onions with salt and cayenne and saute, stirring, until they begin to wilt, about 2 minutes.
Add the beef, chili powder, cumin, red pepper, and oregano, season with salt and cayenne, and cook until meat is done (no pink).
Add garlic, tomatoes, tomato paste and 2-1/2 cups beef stock, bring to boil and reduce heat to medium-low.
Simmer uncovered about 1 hour, stirring occasionally and skimming fat that rises to the surface.
Combine masa harina flour with remaining 1/2 cup stock.
Slowly add to the pot, stirring to blend, which will thicken the mixture.
Cook for 30 minutes and correct seasoning.
From here, Emeril deep fries his own shoestring French fries, but I use frozen French fries or waffle fries to save time (and mess!).
Prepare frozen potatoes as package directs.
Lower oven heat to 400 degrees F, place fries in bottom of a large glass rectangular baking dish.
Sprinkle cheeses over the fries and bake for 3 to 4 minutes.
Remove pan from oven and spoon hot chili over the top of the fries.
Garnish with sour cream and jalapeños and serve immediate
recipe resource
here
shared this food related post
keep in touch
share your creativity 8/12
really crafty 8/14
shared at facebook group
twitter market
8/3 twitter / like / favorite
social media network ---- pin from a blog post 8/25
retweet this post here