This easy version of Chicken and Sausage Gumbo offers a bit of Cajun and a bit of health through a delicious gumbo. Louisiana cuisine always includes gumbo. This gumbo recipe offers one that is a bit healthier as well. It is hard to find diabetic chicken gumbo recipes especially one that taste great. Better yet, this gumbo recipe will not have you cooking over the stove for hours at a time. It is easy to cook the roux, chop up the seasoning ahead of time takes a lot of time out of cooking this meal.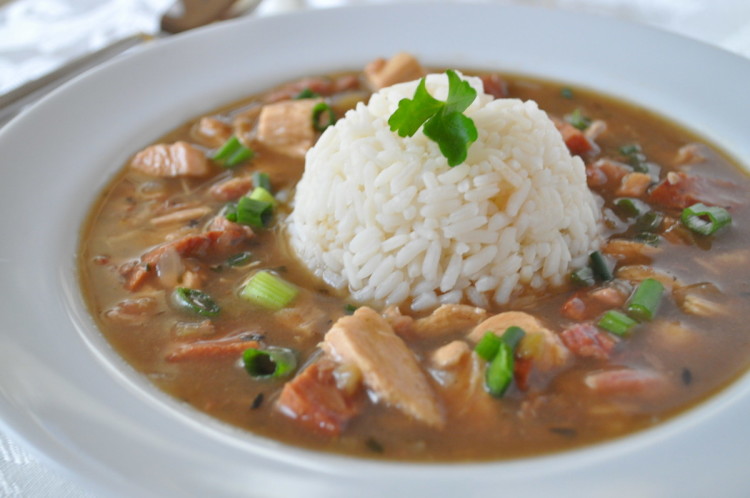 1/2 cup all-purpose flour
1 lb reduced-fat sausage cut in 1/4-inch pieces
2 lb boneless, skinless chicken breasts cut in pieces
1 onion chopped
1 tsp garlic minced
1 green bell pepper cored and chopped
2 stalks celery chopped
8 cup fat-free chicken broth
1 16-ounce package frozen cut okra or fresh cut okra
1 tsp dried thyme leaves
1/4 tsp cayenne
1 bunch green onions chopped
Preheat oven 400ºF.
Place flour on baking sheet and bake 20 minutes. Stir every 7–10 minutes or until dark nutty brown color. Set aside.
In large nonstick pot coated with nonstick cooking spray, stir-fry sausage over medium heat and cook until crispy brown. Set aside and remove any excess grease. Recoat skillet with nonstick cooking spray.
Add chicken and cook, stirring until starting to brown and then add onion, garlic, green pepper, and celery, cooking until tender. Stir in browned flour, stir continuously.
Gradually add chicken broth, okra, thyme, cayenne, and season to taste. Bring to boil, lower heat and simmer 30 minutes or until chicken is tender. Add sausage and green onions cooking 5 more minutes.
recipe resource
here
retweet pos
t here
shared on facebook
here
shared at these blog hops, parties and linkups
dishing it and digging it
saturday sharefest
shared at these facebook group linkups
blog and social media click thru --- 1/16 ---- social media click thru