Pistachio Gelato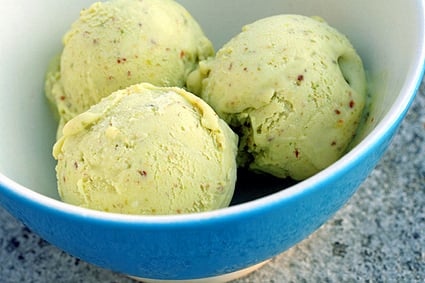 About 3 cups (3/4 liter)
2 cups (1/2 liter) whole milk
1/3 cup (65g) sugar
2 tablespoons (16g) cornstarch, also known as corn flour
7 ounces (200g) Bronte pistachio paste (see Note)
a few drops of lemon or orange juice
1. Make a slurry by mixing the 1/4 cup of the milk with the cornstarch, mixing until the starch is dissolved and the mixture is smooth.
2. Heat the rest of the milk in a medium-sized saucepan with the sugar.
3. When it almost starts to boil, stir in the cornstarch mixture and cook at gentle simmer for 3 minutes, stirring constantly.
4. Remove from heat, scrape into a bowl, and chill thoroughly, preferably overnight.
5. Once chilled, whisk in the pistachio paste and just a few drops of citrus juice until smooth.
6. Freeze the gelato in your ice cream machine according to the manufacturer's instructions.
recipe resource
here
Retreat the post
here
shared at these blog hops, linkups and parties
sundays @ home