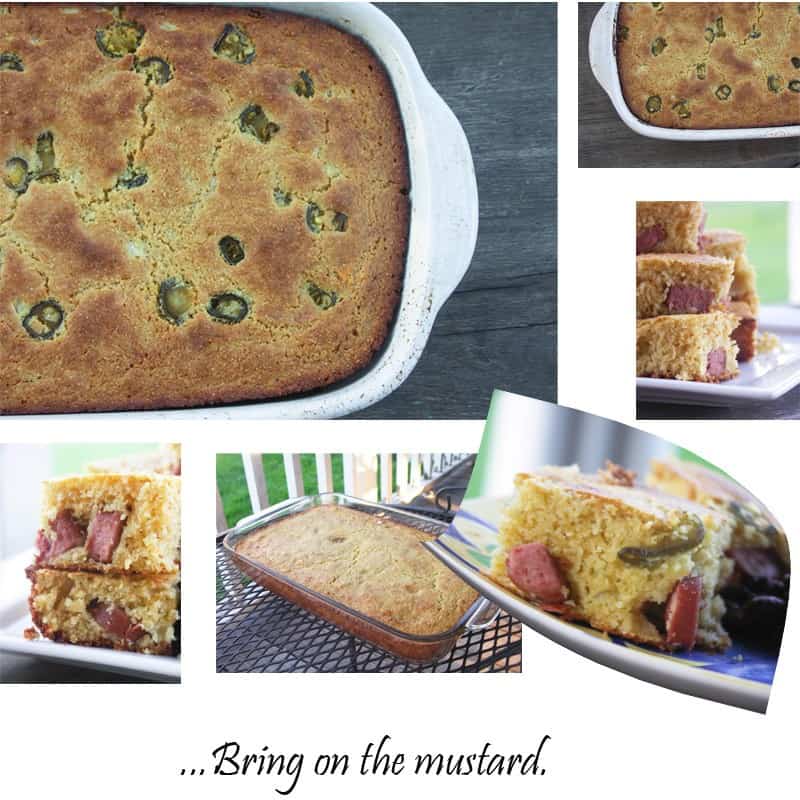 1 cup (4.25 ounces by weight) all purpose flour
3 cups stoneground cornmeal (15 ounces by weight) (You can use regular yellow cornmeal, but be sure not to use self-rising cornmeal here!)
1-1/2 teaspoon baking soda
4 teaspoons baking powder
3 Tablespoons honey
2 teaspoon salt
1/4 teaspoon ground cayenne pepper
1/4 teaspoon granulated garlic (garlic powder)
1/4 teaspoon granulated onion (onion powder)
4 eggs, beaten
6 Tablespoons melted butter
2-1/2 cups buttermilk (Don't forget how easy it is to make your own real buttermilk!)
8 hot dogs, sliced into 1/4-inch rounds (You can use leftover grilled hot dogs or fresh hot dogs; either is fine!)
Optional, but tasty:
1/2 a cooking onion, peeled and chopped finely
2 Tablespoons Candied Jalapeno or pickled jalapeno rings ~or~ 1 fresh jalapeno, sliced into 1/8-inch rounds
Preheat oven to 375°F. Lightly grease a 9-inch by 13-inch baking dish and set aside.
In a large mixing bowl, combine flour, cornmeal, soda, powder, salt and sugar with a whisk. In a medium sized bowl or large liquid measuring cup, whisk together the eggs, melted butter and buttermilk. Pour the liquid mixture into the dry mixture and stir lightly until the batter has mostly come together but still has some small lumps (Grandma's notes specify to use a whisk. I do what Grandma says. It's always for the best.)
Fold the sliced hot dogs and onions (if using) into the batter gently just until combined. Scrape the batter into the greased baking dish and level the top. If using the jalapeno rings, arrange evenly over the top of the batter. Slide the baking dish into the oven and bake for 30 minutes, or until the top is golden brown and it tests done*.
*A toothpick or cake tester stuck into the center of the bread will come out clean.
recipe resource
here
Retreat post
here
shared at these facebook group linkups
RT club --- 3/3 --- 3 rt
your the star
facebook linkup
facebook linkup