Tuna sandwiches were very popular in my childhood. My mother loved them and made them often. I was very surprised when in highschool home-ec class I found that a few of my friends had never ate a tuna sandwich. Wow!!!! With so many ways to make tuna sandwiches and the ease of making them there is absolutely no reason to not try a tuna sandwich just once.
Easy To Make:
Open the can o pouch of tuna and pour away the brine. Simply use the can lid slanted just a bit and press down just a bit to squeeze out all the liquid This is easily done over the kitchen sink or empty bowl. Toss away the lid.
Pour tuna into the bowl. Stir in the rest of the ingredients you will place in your salad. Other ingredients include mayo, celery, onion, pickle relish, garlic and lemon juice. Mix well and season to taste with salt and pepper. If you choose to you can allow it to chill a bit or it at once. I like both ways what is your favorite
Tuna Sandwiches can also be economical take a look at this recipe from
Budget Bytes
3 5 oz. cans chunk light tuna in water $2.16
3 stalks celery $0.46
3 whole green onions $0.15
1/4 cup chopped walnuts $0.42
1 med lemon $0.32
1/3 cup light mayonnaise $0.56
to taste salt and pepper
Wash the celery and green onions. Cut the celery into very small pieces by slicing each stalk into 4-5 thin strips lengthwise and then cutting across (see photos). Slice the green onions thinly. I like to use both the green and white ends for this recipe.
Combine the celery, green onions, chopped walnuts, juice from half of the lemon and freshly ground black pepper in a bowl. Drain the tuna well and add to the bowl.
Add mayonnaise until you have your desired consistency. I used approximately 1/3 cup. Stir until everything is combined. Give the mixture a taste and adjust the salt, pepper and lemon juice to your liking. Serve immediately or chill until ready to eat.
Here are a few other tuna sandwich ideas:
This taste of home recipe uses the old hero sandwich idea and heats tuna up.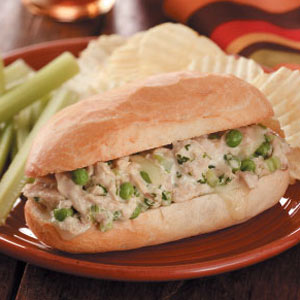 2 pouches (7.06 ounces each) light water-packed tuna
1 cup chopped celery
1 cup frozen peas, thawed
3/4 cup mayonnaise
4 slices Swiss cheese, cut into 1/2-inch strips
1/4 cup minced fresh parsley
1/4 cup butter, melted
6 hoagie buns, split
In a large bowl, combine the first six ingredients. Brush butter over cut sides of buns. Spoon tuna mixture onto bun bottoms; replace tops.
Place each sandwich on a piece of heavy-duty foil (about 12 in. square). Fold foil around sandwich and seal tightly. Bake at 400° for 15-20 minutes or until heated through. Yield: 6 servings.
1 (5 oz) EZ-Open can Chicken of the Sea Solid White Albacore in Water, drained
2 Tbsp roasted garlic hummus or plain Greek yogurt
2 Tbsp diced purple onion
2 Tbsp fresh dill or basil, chopped
1 large tomato, sliced into four 1/2" pieces
2 slices havarti cheese
salt and pepper, to taste
Heat oven to Broil.
In a large bowl, mix together tuna, yogurt, onion and basil. Salt and pepper to taste.
Arrange tomato slices on a parchment lined baking sheet. Top with tuna mixture.
Cut havarti slices in half, and place one half-slice atop each tomato.
Place under broil and cook just until cheese is melted.