Have you ever heard the saying "Use the Whole Hog" With Scrapple that is just what they are striving to do. Made up of a mush of pork scraps and trimmings that are combined with cornmeal and wheat flour and spices. The mush is made up of left over meat after butchering that is not used or sold elsewhere. The mush is formed into a semi solid congealed loaf and slices of the scrapple and then pan fried.
Scrapple is best known as an American food of the Mid-Atlantic states of Delaware, Maryland, New Jersey, Pennsylvania, and Virginia. Scrapple is commonly referred to as ethnic food of the Pennsylvania Dutch, Mennonites and Amish. Scrapple can be found in supermarkets both fresh and frozen in different regions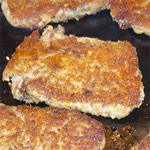 It is suggested that the Europeans may have been the first to use scrapple. While it may have started there it quickly became a German dish that was known as panhas. The dish made use of locally available ingredients. It was brought to America by German colonists who settled near Philadelphia in the 17th and 18th centuries.
Originally scrapple was created to help rural immigrants to stretch food. Made up of the pigs head, brains, heart , liver, skin and other trimmings. The meat is boiled with the bones to gain a bit of extra flavor. When a good broth was achieved the bones were discarded. The meat was simmered with cornmeal, wheat or buckwheat flour, onions, and spices like sage and thyme. This mixture was formed into loaves and pan fried. A traditional breakfast dish served with apple butter, ketchup, mustard, honey or maple syrup. Served along side a mess of eggs and toast.
retweet post
here
post shared at blog hop, linkups and parties
full plate thursday