As you may have heard the state of Illinois celebrated a big birthday the other day turning 200 years old. There are a few facts you may know all ready about Illinois for example the state capital is Springfield. Springfield is where Abe Lincoln has been memorialized in many different ways. The Lincoln memorial as well as the New Salem settlement. However, there are a few things that you may not know....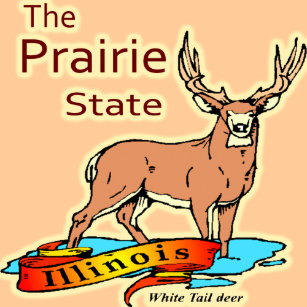 Today, we are starting with Illinois state animal. The White-Tailed Deer: In 1980 the state held a survey among schoolchildren in Illinois to vote for the state animal. I can recall doing this as a 10 year old in 4th grade. We are able to choose among a handful of other suggested animals. The white tailed deer came out the winner. Perhaps you did know this fact, but were you aware that other states including:
Arkansas
Georgia
Michigan
Mississippi
Nebraska
New Hampshire
Ohio
Oklahoma
Pennsylvania
South Carolina
Wisconsin
All recognize the white tailed deer as their state symbol.
The white tailed deer is one incredible beautiful animal that can run up to 40 m.p.h, jump 9 foot fences, and swim 13 miles per hour It is incredible easy to see the white underside of the deer's tail wave as it runs. The white of the tail is flashed as well when danger is sensed. Fawns are born with white spots for camouflage. In early days of settlements in America both natives and settlers relied on the white tailed deer for buckskin and food.
retweet
here
shared on blog hop, parties and linkups
saturday sparks