tablespoon olive oil
4 large eggs, lightly beaten
Kosher salt and freshly ground black pepper, to taste
1 (16-ounce) tube refrigerated buttermilk biscuits
8 slices cheddar cheese, or your favorite cheese
8 slices thinly sliced ham
Preheat a waffle iron to medium-high heat. Lightly oil the top and bottom of the waffle iron or coat with nonstick spray.
Heat olive oil in large skillet over medium high heat. Add eggs whisking, until they just begin to set; season with salt and pepper, to taste. Continue cooking until thickened and no visible liquid egg remains, about 3-5 minutes; set aside.
Separate biscuits into 8, cutting each biscuit in half lengthwise to create 16 pieces.
Working in batches, place biscuit halves into the waffle iron. Top with cheese, ham, eggs and remaining biscuit half. Close gently and cook until golden brown and crisp, about 3-4 minutes. Serve immediately.
You May Also Like
Tex Mex Waffles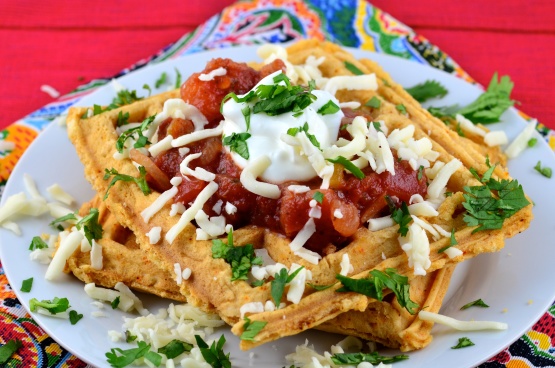 shared this post on these blog linkys
sweet inspiration
lou lou girls
sunday dinner bell
shared on these fb groups
social media network group ====
blog share 9/18
social media network ----
comment 9/22
retweet words 9/26