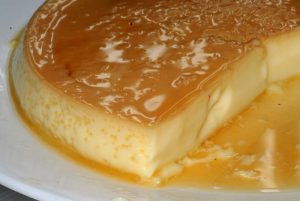 Sugar - 50 grams + 3 tblspn for making caramel
Vanilla Essence - 1 tblspn
Preheat the oven to 190 Degree C / 375 Degree F.
Start by making the caramel. In a nonstick pan add sugar and 1 tblspn of water and swirl the pan to help it to melt down.
Let the caramel come to a boil allow it to bubble up till it turns golden brown. Don't stir the pan which results in a sticky caramel. Pour this caramel in a baking pan and spread it evenly.
Now whisk eggs, sugar and vanilla till light and fluffy. Add in milk and mix well. Pour this through a sieve and pour it over the caramel.
Now take a bigger pan and fill it half way with water. Place the caramel pan inside that pan and bake it for 45 mins.
Allow it to cool a bit. Put into the fridge for around 3 hours.
Now release the sides with a knife and place a plate over the tin and holding the tin carefully, invert the tin.Now tap the top of the tin carefully and lift it for a lovely caramel custard.