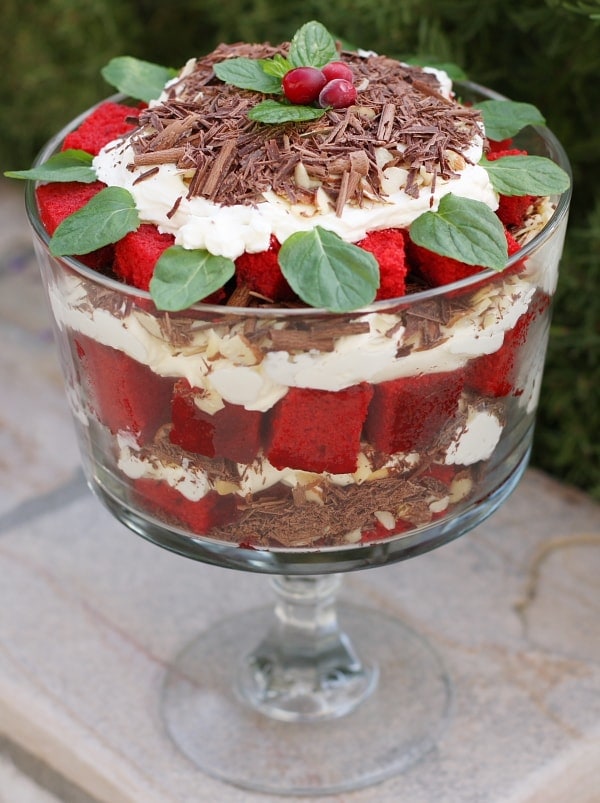 CAKE:
1 cup unsalted butter, at room temperature
1 3/4 cups granulated white sugar
2 1/2 cups cake flour
1 1/4 teaspoons salt
2 large eggs
1 cup buttermilk
1 teaspoon vanilla extract
1 teaspoon baking soda
1 1/2 teaspoons white vinegar
1 1/2 teaspoons unsweetened cocoa powder
1 ounce red food coloring (use 2 ounces if you desire a deeper red color)
SYRUP:
1/3 cup granulated white sugar
1/3 cup water
1/2 teaspoon vanilla extract
THE REST:
4 ounces cream cheese, at room temperature
1 (8-ounce) tub mascarpone cheese
1/3 cup granulated white sugar
2 cups heavy whipping cream
sliced almonds- about 1 cup
shaved dark chocolate- about 4 ounces
mint leaves & fresh cranberries for garnish, optional
Preheat oven to 350 degrees F. Spray 9x13-inch pan generously with cooking spray; then dust lightly with flour.
2. Prepare cake: With an electric mixer, blend butter and sugar in a large bowl; set aside. Sift together flour and salt; set aside. Mix the eggs, buttermilk, vanilla, baking soda and vinegar in a separate bowl. Alternate adding flour mixture and buttermilk mixture to the butter mixture. Mix well after each addition. In a small bowl, mix red food coloring and cocoa powder; add to the cake batter and mix just until combined. Pour batter into prepared pan and bake for 30 to 40 minutes, or until toothpick comes out clean. You don't really want the cake to be soft and super moist, so be sure to bake it until it tests done.
3. Prepare simple syrup: In a small saucepan, bring sugar, and water to boil over medium heat. Stir to dissolve sugar completely. Stir in vanilla. Let cool.
4. Cut the cake in half and cut one half into chunks; brush with cooled syrup. You likely won't need more than half of the cake for the trifle. Save the rest of the cake for another purpose.
5. Prepare whipped layer: In a large bowl, beat cream cheese, mascarpone and sugar on high speed until light and fluffy. Reduce speed to medium and slowly pour in whipping cream. Continue beating until mixture resembles soft whipped cream.
6. Assemble the trifle: In the bottom of your trifle dish, arrange a single layer of red velvet cake chunks. Spoon about 1 1/2 cups of the whipped topping on top of the cake cubes. Next, sprinkle almonds and then shaved chocolate. Keep repeating layers until you run out of room in your dish. Garnish with mint leaves and fresh cranberries, if desired.
recipe resource
here
retweet post
here
shared at these blog hops, parties and linkups
foodie friday
shared at these facebook group linkups
RT club --- 1 RT -- 1/5