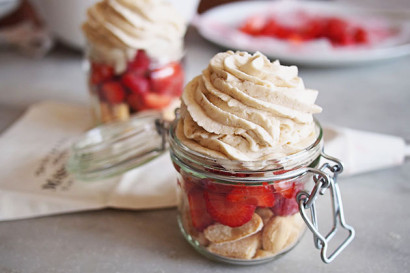 1 whole Ripe Banana (peeled)
1-¼ cup Whipping Cream
1 Tablespoon Super Fine Icing Sugar
2 Tablespoons Pure Vanilla Extract
In a small bowl, mash the banana very, very well, until there are no chunks left, or at least only very small chunks. I used my hand mixer on the lowest setting to help with this process. I mashed my banana until it was almost a thick liquid consistency. Set aside.
In a separate bowl, whip the cream, sugar and vanilla until stiff peaks form. Add the mashed bananas into the whipped cream and mix together by hand, or on the lowest setting of the hand mixer for a very short time (so as to not over whip the cream). Spoon or pipe over anything!
To make the strawberry and biscuit jars in the picture, break 3 crispy sponge fingers into each jar and top with a generous handful of strawberry pieces. Pipe the banana whipped cream over it using a large piping star.
recipe resource
here
retweet post
here
shared on facebook
here
shared at these blog hops, linkups and parties
inspiration monday
shared at these facebook group linkups
retweet the words 1/27