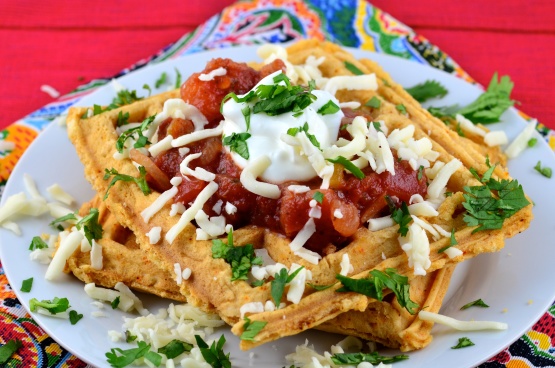 1 1⁄2 cups all-purpose flour
1⁄2 cup yellow cornmeal
1 1⁄3 cups longhorn cheese or 1 1⁄3 cups sharp cheddar cheese, grated
1 tablespoon baking powder
2 teaspoons sugar
1⁄2 teaspoon salt
1 teaspoon mild chili powder
1 2⁄3 cups milk
2 eggs, lightly beaten
1⁄3 cup vegetable oil
2 tablespoons finely chopped green chilies
Preheat the waffle maker.
In a large bowl, combine the flour, cornmeal, cheese, baking powder, sugar, salt and chili powder. Add the milk, eggs, vegetable oil and chiles, and mix just until moistened. Mixture may be a little lumpy.
Bake in preheated waffle maker according to manufacturer's instructions. Makes 4 to 5 large waffles.
Serve with your favorite salsa, sour cream and additional grated cheese.
recipe resource
here
shared at
pretty pintastic