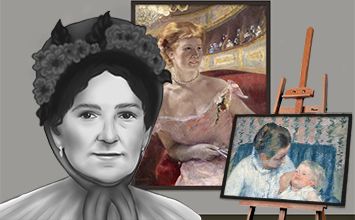 "I had already recognized who were my true masters. I admired Manet, Courbet and Degas. I hated conventional art - I began to live."
Mary Cassatt
Mary Stevenson Cassatt was born in America to an upper middle class family. Her father was a successful stockbroker, and her mother belonged to a prosperous banking family. Mary would move to and traveled to France to gain an artistic training.
Mary Stevenson Cassatt was born to a comfortably upper-middle-class family: her father was a successful stockbroker, and her mother belonged to a prosperous banking family. Her family lived in France and Germany for a few years allowing the young Mary an early exposure to European arts and culture. As a child Mary Cassatt learned French and German language The early exposures most likely helped Mary when she traveled to France and remained during her art career.
Cassatt was one of the few Americans allowed to exhibit her talented art with that of the Impressionists in Paris. As one of the few women to have her art looked at and accepted by art skeptics she often created art illustrating women as well as mothers and children. Mary employed a light palette and a loose brushstroke that was in line with other Impressionist artist. The art of Mary Cassatt appears to have an influence of Japanese art as well as that of the old masters Europeans. Perhaps the variety of technique in her art comes from the fact she was able to work in such as large variety of media.
Cassatt enjoyed her career at the same time as a move of feminism of the 1840s took part. This allowed her and other women in the art world to access educational institutions at the colleges and universities that were now co-ed. Mary Cassatt was an outspoken advocate for women. Pushing for equality she campaigned with her friends for equal travel scholarships for students and the right to vote in the United States as well.
\
Life for Mary Cassatt was lived as a successful, highly trained woman artist who never married. Her mother Katherine Cassatt believed in education for both men and women and Mary campaigned for the cause by being knowledgeable and socially active. She demanded in being known more than just a "woman artist" by supporting women's suffrage. She displayed a show of art in 1915 that was supported by feminist Louisine Havemeyer. The show caused quite a conflict in the family as they not all supported her thoughts.
Cassatt lived a long life to the age of 82 when she passed in 1926
post pinned
here