It will soon be harvest time. If you are the grower you know what that means time to capture your bounty and put it up for safe keeping. If you do not grow produce you can still often find great treats at farmer markets. One item you may have are tomatillos. This great salsa recipe will be great for fall get togethers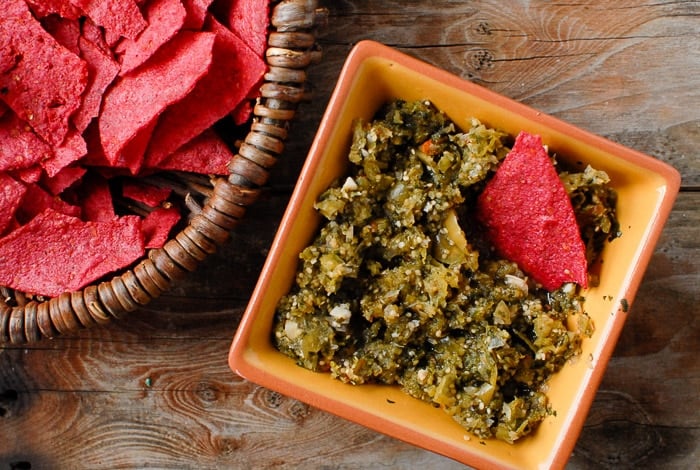 3 pounds of Tomatillos
1 large Yellow Onion onion , peeled and cut into large pieces
4 Serrano Chilies
2 large Jalapeno Chilies
5 medium Garlic Cloves
2 teaspoons Kosher Salt
1 cup fresh Cilantro
Optional: 1-2 small red sweet peppers (not bell peppers)
Preheat the broiler. Line two baking sheets with foil or cycle the same one through two rounds of broiling.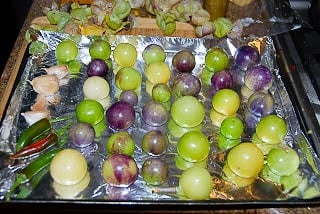 Husk the tomatillos and rinse them. Note: they have a tackiness to the skin which will not rinse off. Put the tomatillos, the chilies and the unpeeled garlic cloves on the prepared baking sheet (s).
Place the baking sheet(s) under the broiler checking them every few minutes until the tomatillos and chilies char (aproximately 7-10 minutes for the tomatillos and faster for the chilies). Note: if smaller chilies char before the tomatillos,, remove them while the remaining ingredients broil.
Add the onions pieces to the bowl of a food processor.
When the tomatillos are done let them cool for just a few minutes until you can handle them and put them into the food processor bowl. Squeeze the contents of the garlic cloves out of their skin into the food processor bowl, ensuring the peel does not go into the salsa.
Tip: wear protective gloves when handling chilies. Remove the top of the chilies with a sharp knife and discard. Slice the length of the chiiles, open (a dining knife works well for this) and gently scrap out the seeds and inner membrane; discard scraped contents. Add the prepared chilies to the food processor.
Add the cilantro and salt to the food processor. Turn on the food processor and pulverize to a liquid salsa consistency.
Optional: to give the salsa some visual appeal if desired, add the red sweet peppers (not bell peppers) to the food processor. It breaks up the all green appearance!
recipe resource
here