Butternut squash is a rich and satisfying vegetable that is surprisingly low in fat and calories. Closely related to pumpkins, spaghetti squash and acorn squash it is part of the winter squash family. The term "winter squash" is derived because they store well for months due to their thick skins this helps the squash last through the winter.
Butternut squash is a beautiful shade of orange. The great thing is that it is a healthy food. One cup of butternut squash offers nearly 4 times your vitamin A needs for the day. as much potassium than a banana and also a good source of vitamin C, manganese, fiber and antioxidants.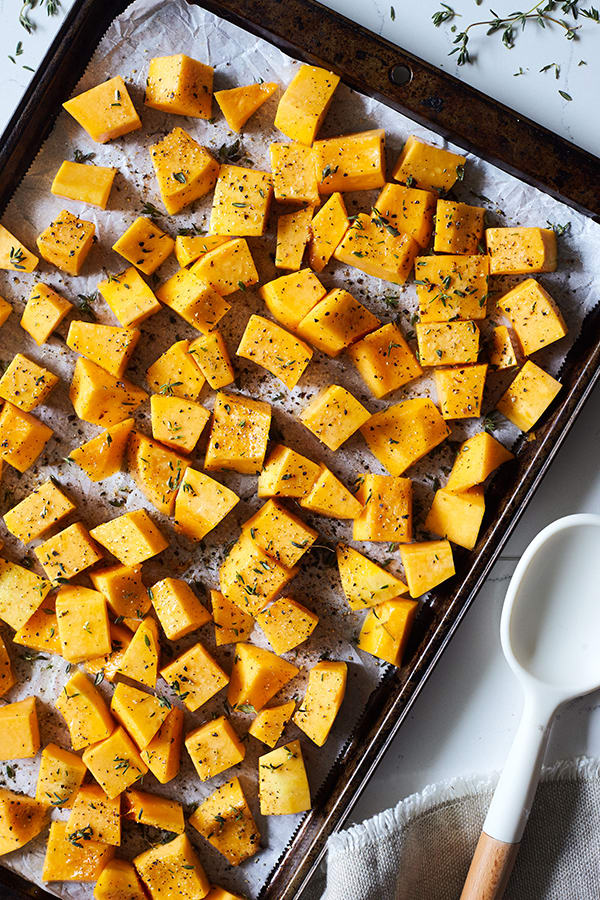 Tips for Choosing Butternut Squash:
heavy for its size is a good sign

firm to touch

skin free of blemishes and bruises
cut off stem and base

stand squash on its end and peel with knife or use a veggie peeler.

cut in half lengthwise, scoop out seeds and fibrous flesh out of middle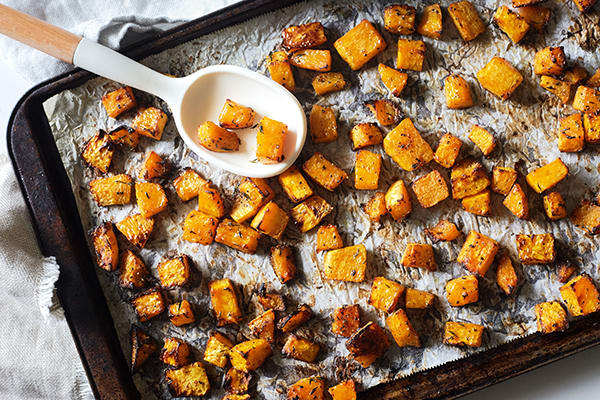 Spread squash out on baking sheet in single layer. Spread so that they do not touch it will help them cook crisper. Top squash with thyme, rosemary, oregano or spices such as cumin or paprika.
Roasted butternut squash is very versatile. Perfect for fall and winter side dish. Offers lean protein and is perfect atop a bed of greens in a salad or added to a soup. The next time you are considering serving baked sweet potatoes or any other starchy veggies try roasted butternut squash instead.
On a side note: Squash seeds are edible Simply roast like pumpkin seeds add salt, pepper, and any other spices you choose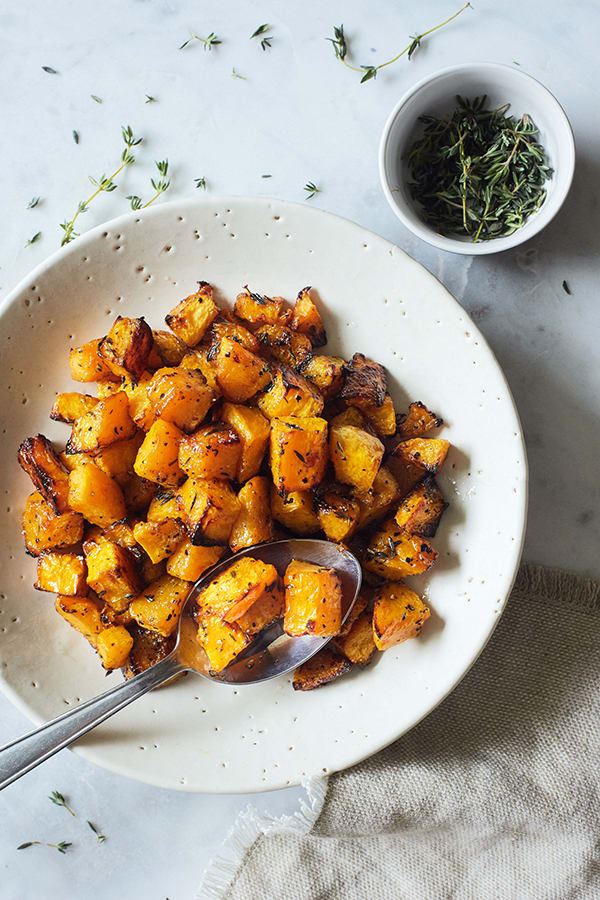 Serves:
8 servings, about ½ cup each
Ingredients
1 medium butternut squash, peeled, seeds removed, cut into 1½-inch pieces (about 2 lbs.)
4 tsp. olive oil
½ tsp. sea salt (or Himalayan salt)
½ tsp. ground black pepper
2 Tbsp. finely chopped thyme
Preheat oven to 450° F.
Place squash in large oven-proof roasting pan (or baking sheet).
Drizzle with oil. Season with salt, pepper, and thyme; mix well. Spread squash in a single layer in pan.
Bake, turning twice, for 40 to 45 minutes, or until squash is brown and tender-crisp.