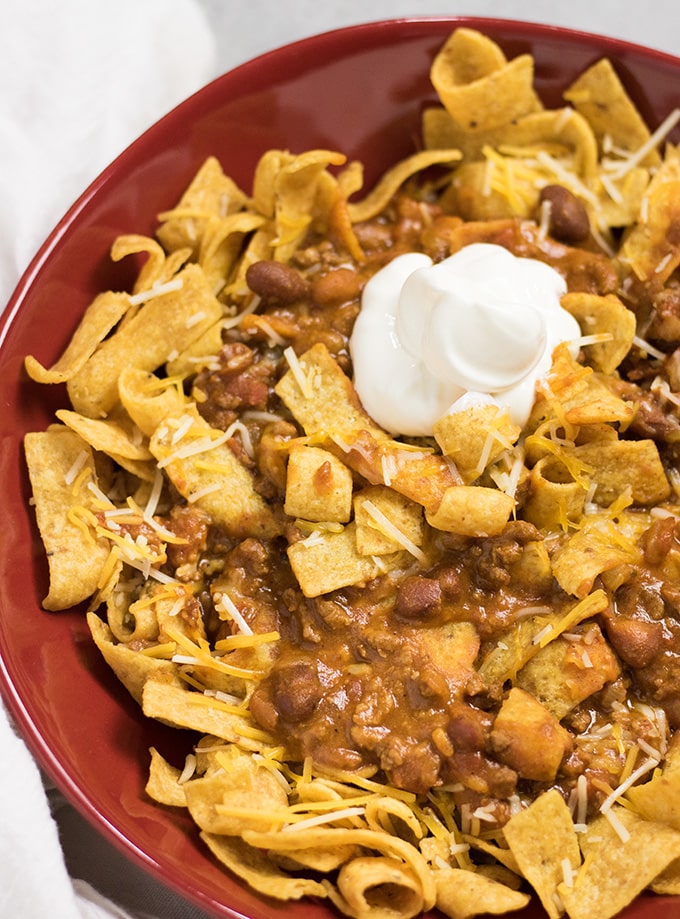 1 Pound Ground Beef
1 Medium Onion Chopped
1 (8 ounce) Can Tomato Sauce
1 (14 ounce) Can Diced Tomatoes
1 (15 ounce) Can Pinto Beans
1 (15 ounce) Can Chili Beans
1 Package Taco Seasoning
1 Teaspoon Chili Powder
1 Teaspoon Garlic Powder
1/4 Teaspoon Cayenne Pepper
1/2 Teaspoon Salt
2 Cups Shredded Cheddar Cheese
1 (10 ounce) Bag Fritos Corn Chips
Brown the ground beef with the chopped onion in a medium skillet over medium-high heat. Drain grease from meat if necessary.
Pour ground beef mixture into the slow cooker. Add the tomato sauce, diced tomatoes, beans, and seasonings to the crockpot. Stir. Cook on low for 6-8 hours or high for 4-5 hours.
Right before serving, stir one cup of the cheese into the chili. Top with remaining cheese and Fritos.
Serve with more chips, sour cream, letttuce, tomato as desired.
retweet post
here
shared at these blog hops, linkups and parties
over the moon
shared at these facebook group linkups
facebook linkup
--- tweeting 4 us #3 --- 3/6