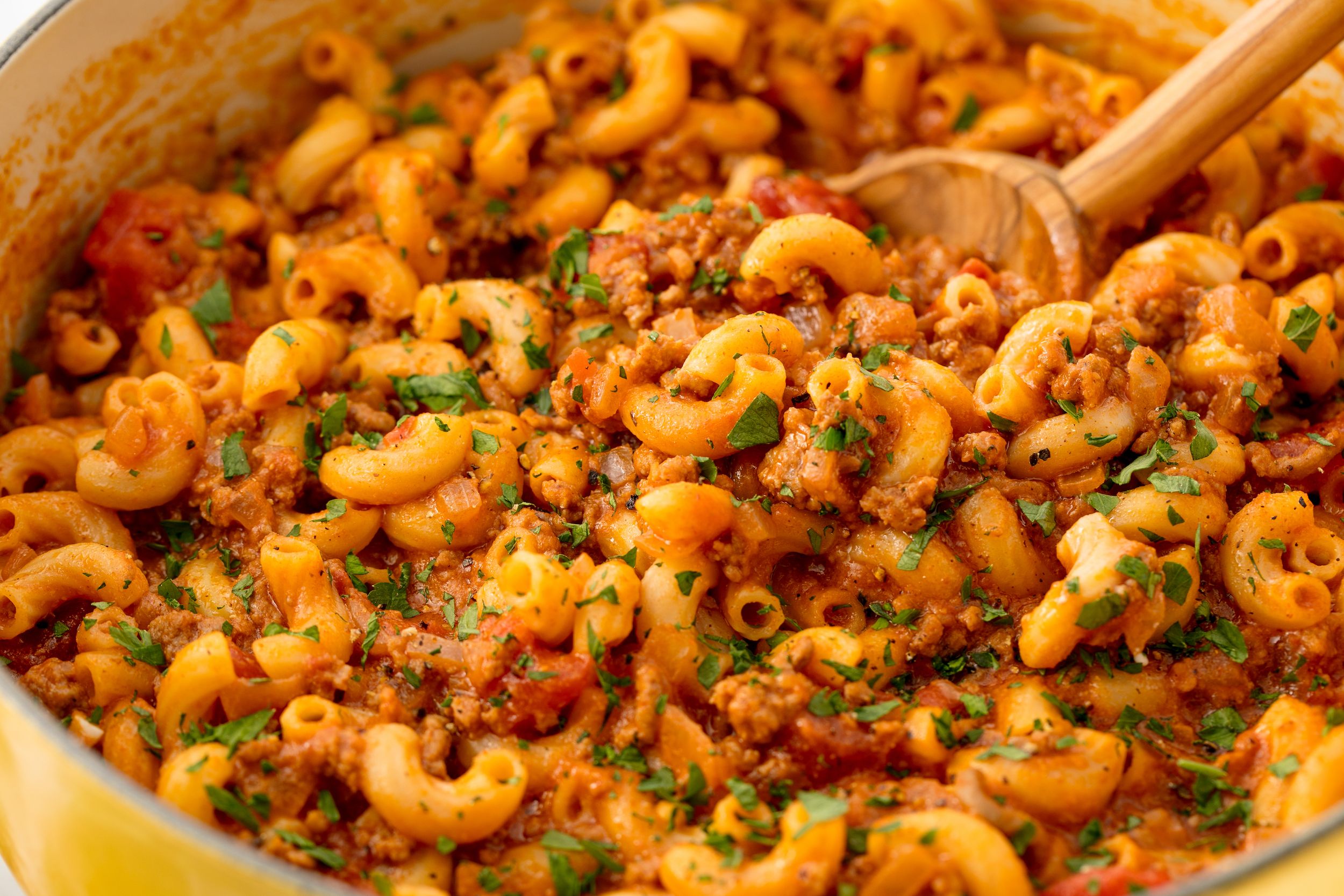 2 cups uncooked macaroni (use rice pasta or gluten-free pasta for gluten-free version)
1 Tbsp extra virgin olive oil
1 pound ground beef
1 yellow onion, chopped (or mixed chopped green onion greens and yellow onion)
1/2 teaspoon seasoned salt
Pinch chili pepper flakes
1/2 teaspoon celery seed
1 large can (28 oz) of diced tomatoes
2 Tbsp Worcestershire sauce
1/4 cup chopped fresh parsley
Salt and freshly ground black pepper to taste
Start cooking the pasta: Get a large pot of salted hot water (1 tablespoon of salt for 2 quarts of water) heating and begin cooking the macaroni as per the directions on the macaroni package.
Brown the beef and onions: While the water is heating and macaroni cooking, prepare the sauce. In a skillet, brown the ground beef in a tablespoon of olive oil on high heat. Stir only infrequently so that the ground beef has an opportunity to brown.
Add seasonings, tomatoes: Add the celery seed, a dash of crushed red pepper and seasoned salt. Pour in canned tomatoes, add the Worcestershire sauce and stir to combine. Simmer for 5 minutes.
Add cooked pasta: Reserve a half cup of the pasta cooking water. Mix in the drained and cooked macaroni and the parsley. Cook for another 5 minutes. Add in some of the pasta water if the dish is too dry.
Add freshly ground black pepper and salt to taste.
retweet post
here
shared at these blog hops, linkups and parties
shared at these facebook group linkups