Recently I shared all about the radish and a great way to serve the
radish raw.
Today, another way to serve radishes, as a side dish roasted.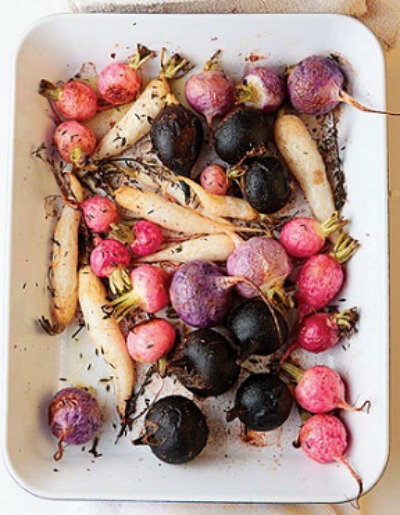 3 bunches assorted radishes (about 1 1⁄2 pounds)
3 tablespoons extra-virgin olive oil
6 sprigs fresh thyme
Coarse salt, sea salt, or Fleur de sel*
Freshly-ground black pepper, to taste
Preheat oven to 425 degrees F.
Trim off radish greens; reserve for another use.
Wash radishes, pat dry, and transfer to a large bowl with olive oil and thyme. Toss to combine; season with salt and pepper.
Place prepared radishes into a shallow baking dish and cook, turning occasionally, until golden brown and a small knife slides easily into radishes, approximately 40 to 50 minutes.
Makes 2 to 4 servings.
recipe source
here
shared this recipe post at
home stories A to Z
wow me wednesday
Full Plate Thursday