Fennel have filigreed leave similar to dill. The color of this plant is darker than dill, at times it also holds a bronze color. Fennel will produce yellow flowers. Fennel is a great plant to fill up the back or corners of a garden. The anise licorice like smell and taste is provided by Fennel. Insects that are beneficial to garden plants are attracted to the smell of fennel. If you are attracted to butterflies you may like that the black swallowtail butterfly is attracted to the fennel plant. If you happen to see a caterpillar with black and yellow markings be aware they are dining on fennel leaves and it is just the larva of the swallowtail butterfly.
Fennel is one plant that often reseeds and is often grown for its leaves, seeds and stems. The stems of the fennel plant are round, smooth, and blue green in color. The leaves of the fennel plant are fine and feathery and alternate the branch from the stalk. The fennel plant can grow as tall as 4 or 5 feet.
Fennel is not recommended to be grown in heavy clay soils. Once the plant is well established the good thing is that every part of the plant is edible. The leaves can be snipped and stored in containers or frozen for later use. The stems can be harvested around 80 day mark when the stems are fat. Seeds can be harvested but may be a bit tricky. The seeds will turn from yellow green to brown. Cut the entire head of the fennel , drop into a brown paper bag and store in warm dark place to dry. Store in jars for year round keeping once dried.
Fennel provides a softer taste of licorice. Fresh leaves can be used in salads or as garnishment. The stems can be eaten like celery. Fennel goes well with fish, sausage, duck, barley, rice, cabbage, sauerkraut, beets, pickles, potatoes, lentils, breads, eggs and cheese. Both the leaves and stems add aroma and flavor to herb butters, salad dressings and Chinese marinades.
Fennel often has a licorice flavor when prepared the right way and with the right pairing. Tarragon also can add a slight licorice flavor in dishes. This spring salad mix with boiled egg and a mustard tarragon vinaigrette is perfect for a salad luncheon for both those who like licorice and those who do not.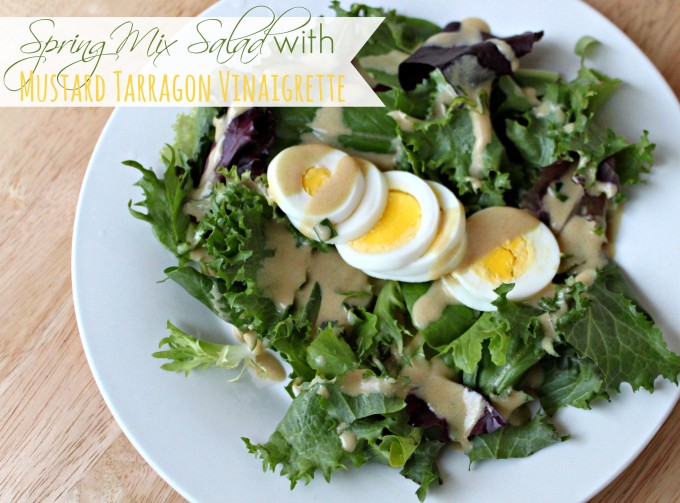 Spring Mix Salad with Mustard Tarragon Vinaigrette
Spring Mix
1 egg, hard boiled
[b]Dressing[/b]
1 tbsp dijon mustard
1 tbsp diced tarragon
1 tsp balsamic vinegar
Extra-virgin olive oil
Salt and pepper, to taste
Place spring mix and sliced hard boiled egg in bowl.
To make the dressing, whisk together the mustard, tarragon, and balsamic vinegar. Slowly whisk in the olive oil until you reach the desired consistency and taste. Add salt and pepper to taste.
shared this informational spring salad recipe post at