One of the first blogs I fell in love with nearly 10 years ago when I started blogging was
$5 dinners
. If you have never visited you should as she has taken the savings and shared it with everyone. With lots of great recipes and nearly everything you will need to save a bit of money in the kitchen serving your family meals. Today I am borrowing a post from her as I believe she shares the most amazing tips on how to cook a sweet potato in a fashion that she calls "steam baking"
How to Cook a Sweet Potato
Yield – 4 servings
4 Sweet Potatoes
1/2 – 1 cup water (depending on the size of your dish)
Optional: butter, cinnamon, and ginger
Place sweet potatoes into baking dish. Slit each sweet potato with knife.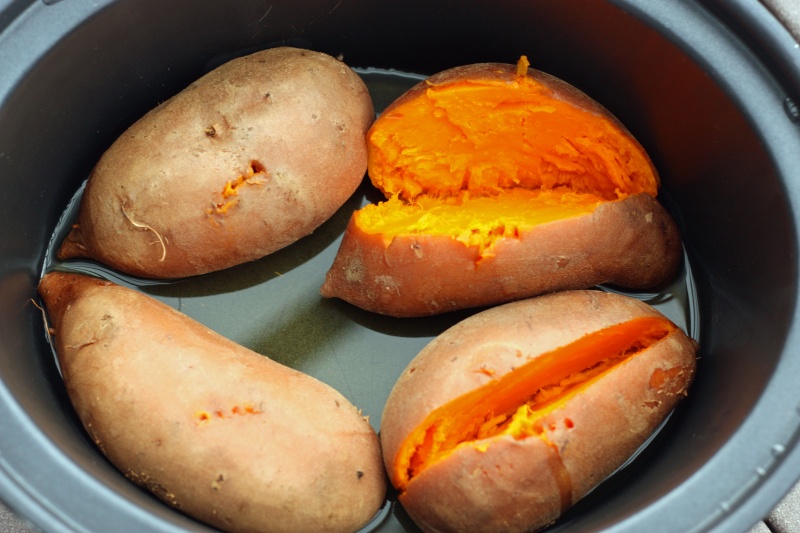 Add about 1/4 inch of water to the baking dish.
Cover with foil and bake at 350 for 45 minutes – 1 hour.
When each sweet potato is soft, remove from oven and let cool for about 10 minutes before handling.
Squeeze the ends and get the skin to come apart. Skin will be very soft and will come apart from the sweet potato flesh.
Scoop out flesh and mash.
If you like, add a little butter, cinnamon and ginger and mix in.
Mash it up and enjoy!
shared at
cooking and crafting with J&J