History was made many times during the years the Boston Marathon has been ran. From the first woman running the Marathon thought to be a mans only race to the man with a
prosthesis
leg
carrying the lady over the finish line so they both finish the race. Both of them making history letting the world know that it takes all kinds to make the world go 'round.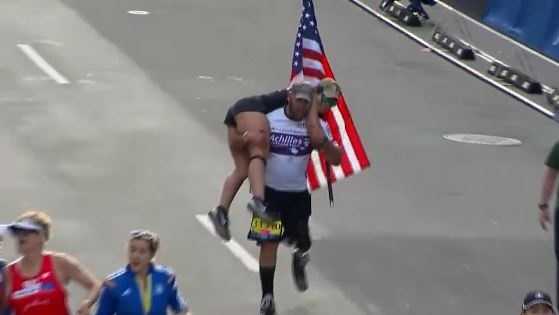 One tradition that stood for years but is no longer carried through is the custom of enjoying beef stew after crossing the finish line.
New England Beef Stew (circa 1980)
Serves 4
1/4 cup flour
1 teaspoon salt
1 pound stew beef, cut into 1 inch cubes
3 tablespoons canola oil
1 cup prepared tomato sauce
1 1/2 cups boiling water
2 sprigs parsley
2 sprigs rosemary
1/2 teaspoon dried thyme
1 bay leaf
1 clove garlic
2 creamer potatoes, cut into approximately 1 inch pieces
1/4 cup 1-inch celery slices
4 ounces frozen peas
1 tablespoon butter
1 tablespoon sugar
2 small onions, cut in half
2 carrots, cut into 1-inch slices
Place the flour and salt in a paper bag. Add the beef and shake the bag until the beef is coated. (You can instead put the flour in a shallow bowl and toss the beef in it, but using the bag is a lot more fun.)
Heat the oil over medium-high heat in a Dutch oven. Add the beef and brown on all sides.
Add the tomato sauce and boiling water, scraping the bottom of the pan with a spoon to stir up the browned bits. Simmer, covered, over low heat until the meat is tender, about 2 hours.
Add the parsley, thyme, rosemary, bay leaf, garlic, potatoes, and celery. Cover and return to a simmer.
Melt the butter with sugar in a skillet. Add the onions and carrots. Cook over medium heat, stirring, until well glazed. Add to the meat mixture.
Add the peas and cook until the vegetables are tender. Check every 30 minutes, though it may take an hour or longer. Refrigerate overnight and reheat before serving.