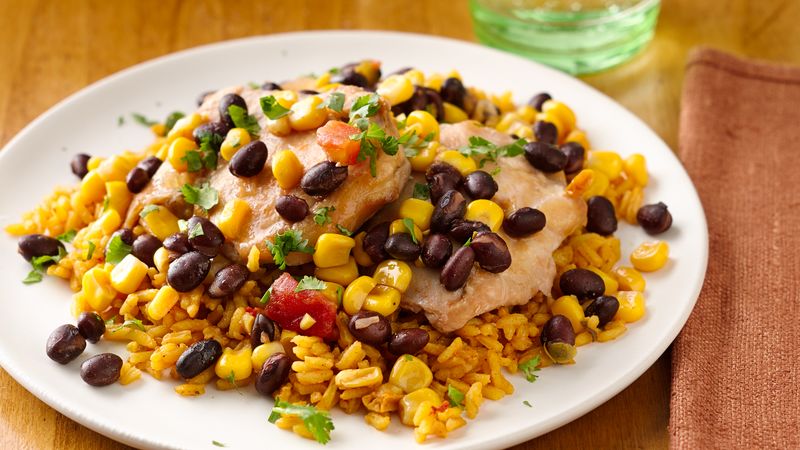 2 lbs Boneless Skinless Chicken Breasts
2 cups Salsa, plus more for topping (your favorite)
Tortilla Chips
Shredded Mexican Blend Cheese
1 (15 oz.) can Corn, drained
1 (15 oz.) can Black Beans, rinsed and drained
Chopped Jalapenos (fresh or pickled)
Fresh Tomatoes, diced
Sour Cream
Fresh Cilantro
Cumin
Chili Powder
Start off by making the Salsa Chicken: Place the chicken breasts (fresh or frozen) and 2 cups of salsa into a crock pot set to low. Allow it to cook for about 6 hours. (If you're in a hurry, you can cook it on high for 3 hours.) Shred the chicken and return it to the pot. Stir everything together and keep the crock pot on low until you are ready to assemble your nachos. (If it looks a little runny, keep the lid off during this last bit of cooking.)
Preheat a toaster oven to 450 degrees. Heat the corn and black beans in separate bowls in the microwave for 60 seconds each.
Assemble the Nachos: On an oven safe plate, arrange a bed of tortilla chips. Top with a layer of shredded cheese. Then add a little bit of the salsa chicken, black beans, corn, and chopped jalapenos. Sprinkle a little more cheese on top, and place it in the toaster oven for 5 - 10 minutes, or until the cheese is nicely melted.
Remove the nachos from the oven and top with a few diced tomatoes, some sour cream, salsa, and cilantro. Then sprinkle on a little bit of cumin and chili powder.
Makes 4 - 6 plates of nachos.
retweet post
share on facebook
pin post
shared at
facebook linkup
--- twitter marketing --- 3/28 --- done
anything goes pink saturday
facebook linkup
=== cbb blog share -- 3/30 --- done
tuesdays at our home
facebook linkup
=== tweeting 4 us #2 === 3/31 --- done
keep in touch
facebook linkup
=== cbb blog comment === 4/2 --- done
artsy fartsy