Firepup day occurs on October 1st. It is a day that recognizes the canine firefighters that have long been members of fire departments across the country. Dalmations were first used at firehouses during the 1700s. They were not afraid of the horses that drew the fire engines. They were used to help clear the way to safety.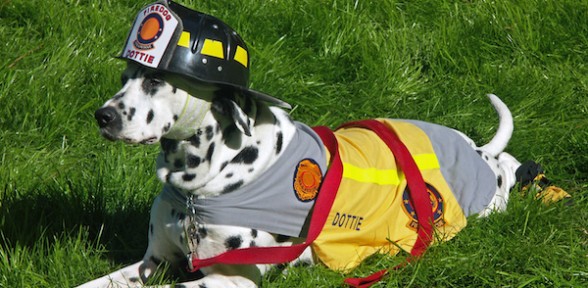 Now days the red engines have long replaced the old horse drawn wagons but the dalmatian still remains a forever remembered figure at the fire house. Now, they serve as mascots and to help educate the public about fire safety.
Now days, dogs are also involved in the search and rescue after a large fire occurs. Fire pups have the ability to focus and concentrate even when surrounded by loud noises or strangers. The dogs involved in search and rescue are fit with good health and athletic ability. The type of dogs normally chosen include Labs, German Shepherds and Border Collies.
Fire dogs in the early days were Dalmations. The Dalmations during the early days would be used to alert those in the way of the fire wagon. They were a siren of sorts as they ran along the horses and barking warnings to all those around. Now days, the Dalmation does not run ahead of the fire trucks but are still very present at many fire departments. They are used for many different jobs including being an "expert" at school demonstrations.