An introduction on February 19, 1985 made this cake doable. Thank you Cherry Coke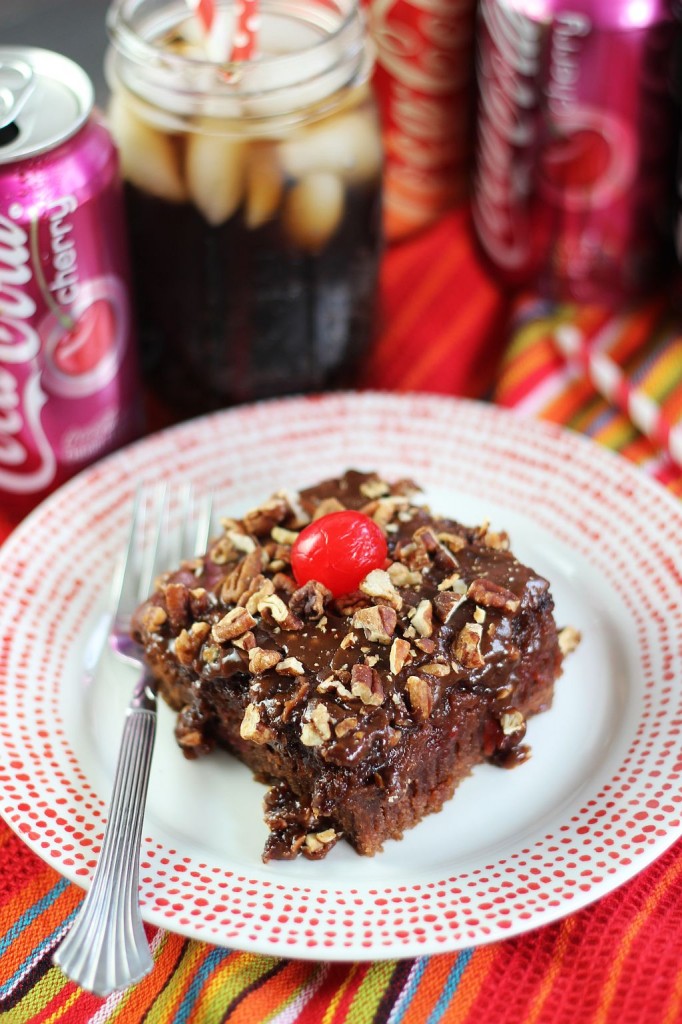 2¼ cup all-purpose flour
⅓ cup cocoa
1 tsp baking soda
½ tsp salt
1 cup butter, softened
1 cup granulated sugar
¾ cup light brown sugar
1 tsp pure vanilla
½ tsp pure almond extract
2 large eggs
1 cup Cherry Coca Cola
½ cup buttermilk
1½ cup miniature marshmallows
Chocolate Cherry Coco Cola Frosting:
½ cup butter
¾ cup Cherry Coca Cola
½ cup cocoa
4 cup powdered sugar
½ tsp pure almond extract
1 cup chopped pecans, toasted
Whipped cream and maraschino cherries for garnishing
Preheat the oven to 350°F. Spray a 9 x 13-inch pan with baking spray.
Sift together the all purpose flour, cocoa, baking soda and salt. Set aside.
In a medium size mixing bowl, cream together the softened butter, granulated sugar, brown sugar, pure vanilla and pure almond extract. Cream until light beige in color.
Add the eggs one at a time beating well after each addition.
Whisk together the Cherry Coca Cola and buttermilk. Set aside and allow the foam to die down.
Add to the creamed mixture alternately with the dry ingredients. Stop and crape the sides of the bowl as needed. Beat just until blended.
After all of the ingredients have been added mix-in the marshmallows by hand.
Spread evenly into the prepared pan. Bounce on the counter a few times to remove air bubbles.
Bake for 40-45 minutes or until a toothpick inserted into the center shows moist crumbs.
To make the frosting, place the butter, cherry coke and cocoa in a small saucepan. Place onto the stove and bring to a boil. Cook until the butter has completely melted.
Remove from the heat and stir in the powdered sugar, almond extract and toasted pecans. Mix well.
Pour over the warm cake immediately. Allow the cake to cool completely before cutting or chill.
Garnish with whipped cream and a cherry, if desired.
NOTES
To toast the pecans, spread in a single layer on a cookie sheet. Toast in a preheated 350°F oven for 6-8 minutes. Cool completely.