Foster Care has made a large presence on both mine and my husbands life. I had grandparents who opened their home to help children as foster care parents. My husband was on the other side in a different part of the state and was a foster child. Together me and my husband have opened our homes and continue to helping and loving several children as foster parents.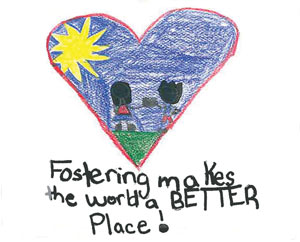 Foster Care Month helps bring out the message that their is always a need for foster parents. It also honors those individuals who have helped in the past, the present and all those that will help in the future. The power of an individual willing to help in the life of a child can make a great difference.
The love of just one individual can make abundant changes in a child. They can offer hope, mend a heart and restore the soul of a child.
There is not one mode of individuals that can offer this help. Foster parents can come from all walks of life. Even you can offer a child the help to change the world by making one child's life better. By offering time, security and love the same things all children need. Foster parents are able to provide a safe and caring home for a child when it is needed most. Times such as family reunification, adoption or independent living.
Foster Parents have an ability to make the world better.