1, This week has been one of the hottest of the year so far. So I do not want to get in the kitchen to cook a full meal so I found other resources. This chunky gazpacho was just right no heating house up and delicious and family pleasing as well
2 We celebrated a new holiday to our family.
Pig day,
oh so yummy. My grandparents raised pigs when I was a kid but we never celebrated a special day for the. Now though that we know about them I think it has become a new holiday to celebrate.
3 I joined a new facegroup about Texas Barbq and decided to make up some
Cowboy Caviar
. It went over great and I love the new group as well Cowboy Caviar is packed with great values of nutrients.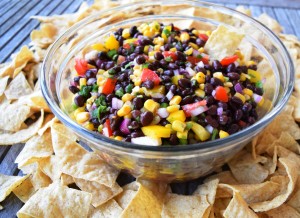 4 I love trying new recipes and sharing them with the family. The
stuffed bell pepper casserole
went over great and was very delicious
5 I love all the memories that I have of grandma, mom and the rest. They normally have someething to do with food but always filled with love. Read about a bit of my past and enjoy a
pie
as well
join in the fun
here