August 4th is national chocolate chip cookie day. While I love to celebrate with a cookie I thought I might off a different spin on things. WIth August being so super hot and many of us desiring not to bake I thought I would show the chocolate chip in a different spot light. This dessert allows the baker to not heat the kitchen up and still enjoy and share a delicious dessert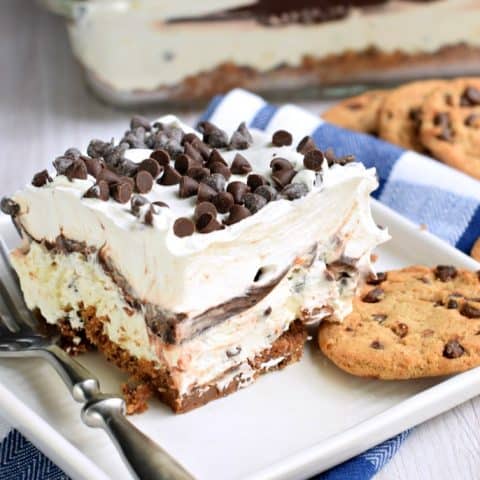 For the crust
34 crunchy chocolate chip cookies (like Chips Ahoy)
1/3 cup unsalted butter
pulse cookies in a food processor until fine crumbs. Or use a ziploc bag and crush with a rolling pin!
Add melted butter to the cookie crumbs and pour into the bottom of a 13x9 baking dish.
Using the palm of your hand or the bottom of a cup, firmly press the crumbs into the bottom of the dish. Set aside.
For the first layer
8 oz cream cheese, softened
1 cup powdered sugar
1/2 tsp vanilla extract
8 oz Cool Whip, thawed
1/2 cup mini chocolate chips
In a large bowl, beat softened cream cheese, powdered sugar, and vanilla extract until smooth and creamy. Fold Cool Whip in cream cheese mixture until blended. Fold in mini chocolate chips.
Pour over crust. Using an offset spatula, spread the mixture evenly over the crust layer.
For the second layer
2 boxes (small box size) Instant Chocolate Pudding Mix
2 1/2 cups cold milk (I used skim milk)
In a large bowl add two packages of INSTANT chocolate pudding mix. Make sure you purchase the instant variety or this won't set up properly.
Whisk in milk. You'll use less milk than the box says because you want this layer extra thick and fudgy.
Once the pudding mix is well blended, spread the pudding over cheesecake layer.
For the topping
8 oz Cool Whip, thawed
1/2 cup mini chocolate chips
Add remaining Cool Whip to the top of the chocolate lasagna. Sprinkle with more mini chocolate chips and refrigerate for 3 hours or overnight.
Slice and serve. Store in refrigerator for up to 5 days. ENJOY.
Please consider sharing this post at