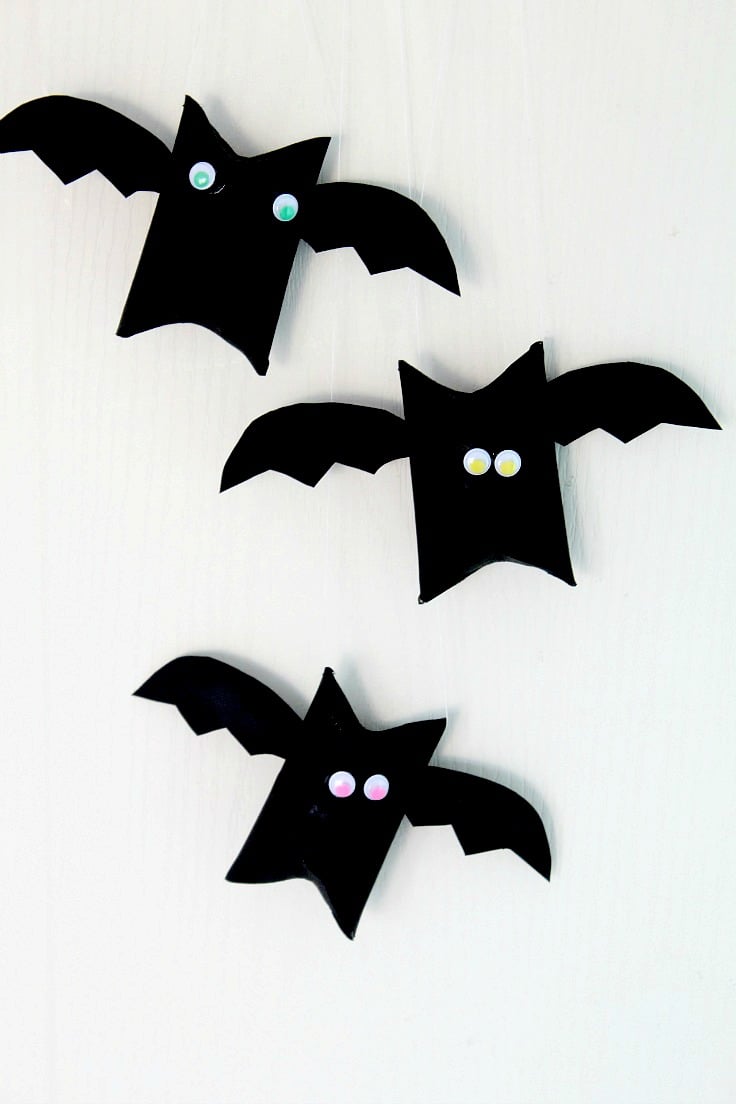 Toilet paper roll
Flat black spray paint
Googly eyes
Black paper for the wings (if you don't have, paint plain white paper in black)
Glue
Thread
Sharp hand needle
Optional for kids – mouth mask, protection goggles, kids' craft gloves
Take your paper tubes and the paint outdoors and start painting the paper tubes, both on the outside and inside (paint the white paper too if you don't have black, on both sides). If you're making this project with kids, I would have them wear a mask to protect them from the fumes, protection goggles and gloves. Or you could paint yourself. You may want to apply a few coats to achieve the desired color. Leave to completely dry, at least for one hour, after the last coat.
If you find it hard to wait for the paint to dry, simply wrap black paper around your paper tubes, sticking it in place with tape and proceed to the next step.
Draw and cut out some bat wings with black paper.
Fold the ends in on the toilet paper roll as indicated in this tutorial.
Glue the wings to the paper tubes, on the back.
Glue on the googly eyes.
Attach some thread to the bats' "ears" using a sharp needle. Make a knot at the end of the thread then start threading from the inside of one ear. Go through the other ear from the outside towards the inside and make a knot. As a rule of thumb, the knots should be on the inside of both ears.
Hang your cute bats on a wall or the ceiling or use them to decorate your kids' desk.
craft resource
here
retweet post
here
shared at these blog hops, linkups and parties
busy monday