One of my favorite sweets in autumn is a good old slice of pumpkin roll. I can still recall the first time I tried this succulent dessert. While my family loves to cook and bake and makes many delicious dishes it was not from a family member that I tried Pumpkin Roll. NO, it was at a fall tea party for adults. Having my first child at a young age and then becoming the mother to a total of 6, it was rare that I would go out alone. So the time out was grand but the dessert, Pumpkin Roll, was as grand and has been one of my favorites since. I am in hopes that you enjoy this fall inspired treat as well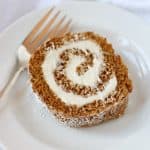 For the cake
3-4 tablespoons powdered sugar
3/4 cup 115g all-purpose flour
1/2 teaspoon baking powder
1/2 teaspoon baking soda
1/2 teaspoon ground cinnamon
1/2 teaspoon ground cloves
1/4 teaspoon salt
3 large eggs room temperature
1 cup 225g granulated sugar
2/3 cup 175g canned pumpkin
For the filling
1 package 8oz/227g cream cheese, softened
1 cup 125g powdered sugar
6 tablespoons 84g butter, softened
1 teaspoon vanilla extract
More powdered sugar for garnish if desired
For cake: Preheat oven to 375° F. Grease a 13x18-inch half sheet pan; line with parchment paper. Grease and flour paper. Sprinkle a thin, cotton kitchen towel with the 3-4 tablespoons of powdered sugar.
Combine flour, baking powder, baking soda, spices and salt in small bowl. Beat eggs and sugar in larger mixer bowl until thick and pale yellow in color. Beat in pumpkin. Stir in flour mixture. Spread evenly into prepared pan.
Bake for 13-15 minutes or until top of cake springs back when touched. Immediately loosen and turn cake onto prepared towel. Carefully peel off paper. Roll up cake and towel together, starting with narrow end. Cool on wire rack.
For filling: Beat cream cheese, powdered sugar, butter and vanilla in small mixer bowl until smooth. Carefully unroll cake; remove towel. Spread cream cheese mixture over cake. Reroll cake. Wrap in plastic wrap and refrigerate at least one hour. Sprinkle with powdered sugar before serving, if desired.
(Recipe adapted from Libby's brand pumpkin.)
shared at these blog hops , linkups and parties
lets party