ADDA wants you to learn more about ADHD during October. ADHD Awareness Month takes place in October. Events and activities across the country will take place around the world. The internet will be a primary source to help spread word as well.
One of the most common childhood disorders is characterized by developmentally inappropriate levels of inattention hyperactivity and impulsive behavior. Symptoms of this attention disorder include:
Difficulty Staying Focused and Paying Attention
Daydream a Lot
Do Not Seem to Listen
Easily Distracted from Schoolwork or Play
Forgetful
Constant Motion or Unable to Stay Seated
These signs should be able be seen frequently and to a degree that is not developmentally appropriate for the child's age. These every day symptoms make it difficult for the child to function.
The frontal lobe is the part of the brain affected by ADHD. The frontal lobe of the brain is responsible for executive function. Individuals with ADHD struggle with organization, problem solving, motivation, focus and impulse control.
The Center for Disease Control and Prevention (CDC) estimate that 6.4 million of children between the ages of 4 to 17 have been diagnosed with ADHD in USA. Warning signs and symptoms often show up in children early on. The Anxiety and Depression Association of America estimate that 8 million adults in America are diagnosed with adult ADHD In addition there may be millions that are not diagnosed.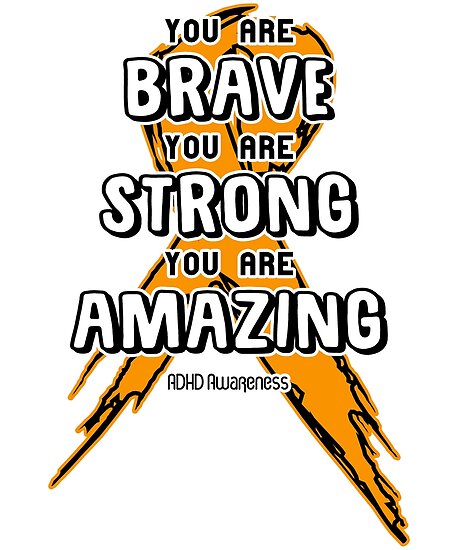 Individuals with ADHD struggle through life. School, jobs, life in general are all hard with individuals with ADHD. Individuals with ADHD can also help to come up with exciting ideas that most other people won't be able to imagine. They learn to thrive in chaotic situations, work in high pressure careers, and are well suited for entrepreneurship. Individuals with ADHD can also take manageable risks, become a leader and develop resilience. Individuals who have proved that those with ADHD can accomplish their goals and dreams include
Michael Phelps

Richard Branson

Simone Biles

Emma Watson

Jim Carrey

Tim Howard

Channing Tatum
ADHD does not stop you from being your best, you just have to work harder than most. Most individuals with ADHD are like everyone else and just trying to get by. Don't give up while life with ADHD may be a bit harder it can be lived to its fullest
ADHD Awareness Day was created by the United States Senate to be celebrated September 7th. It was known as National Attention Deficit Disorder Day and was first celebrated in 2006. A larger month long campaign was to help raise awareness of ADHD providing information that is reliable.