Gumdrops are normally fruit or spice flavored pieces of gelatin like candy that have been sugar coated. While normally conical in shape this is not always the case. Other shapes have included but are not limited to orange slices, licorice babies, spearmint leaves and animals.
Top choice flavors of gumdrops include cherry, grape, orange, lemon and spice flavors like cloves, cinnamon, mint and anise or licorice.
Percy Trusdale has been credited with inventing the gumdrop in 1801. The first gumdrops would most likely have been flavored with spices. Orange --- clove, Yellow---- allspice, Red---- cinnamon, Green---- spearmint, Purple----- anise, White---- wintergreen or peppermint and Black ---- licorice.
Gumdrops, spice drops and the such are used in baking, candy crafting, decorating and for simply enjoying as a snack. Gumdrops have often been used for decorating cakes and cupcakes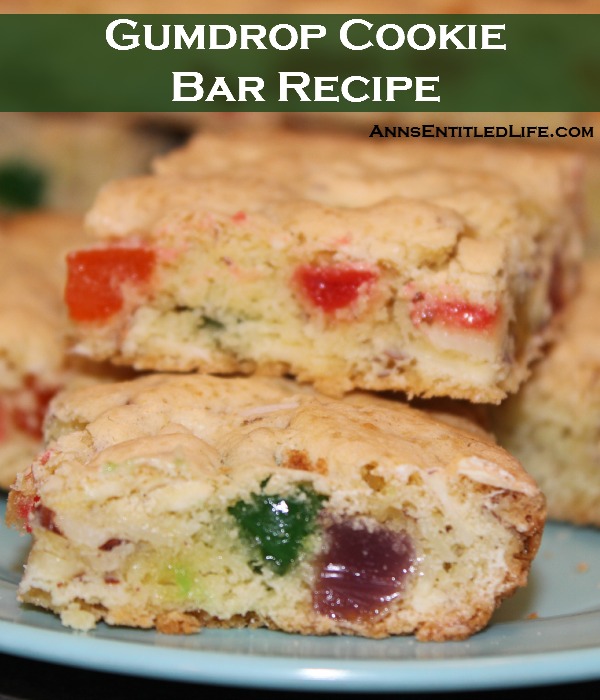 Prep Time:15 minutes
Cook time:30 minutes
• 2 Eggs
• 1 cup Sugar
• 1 ½ tsp Vanilla Extract
• 1 cup Flour
• ¼ tsp Salt
• ½ cup Gumdrops, chopped (avoid the black ones)
• ½ cup Almonds, chopped
• Grease a 9″x9″x2″ baking pan.
• Preheat oven to 325°.
• Sift together flour and salt.
• Fold the chopped gumdrops and chopped almonds into the flour mixture, set aside.
• In a mixing bowl, beat eggs until foamy.
• Beat in sugar and vanilla.
• Remove bowl from mixer, and add the flour mixture to egg mixture, blending together by hand.
• Spoon batter into your greased baking pan, spreading evenly.
• Bake in a preheated 325°oven for 30 to 35 minutes.
• Note: you will see a slight cracking at the top, but the inside will still be moist when baked.
• Remove from oven and allow cookie bars to cool for 10-15 minutes in the pan, on a wire rack.
• Cut the gumdrop cookies into squares inside your pan while still warm.
• Allow gumdrop cookies to cool completely in the pan before removing.
Makes 16 Gumdrop Cookie Bars