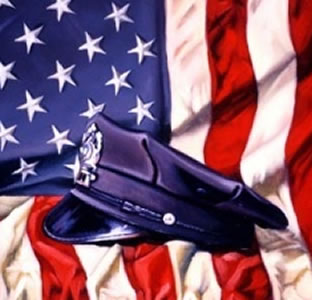 May takes time to pay respect to Police officers both active and those that have fallen. Police Officer Memorial Day and National Police Week both take place in the month of May.
President John F. Kennedy signed a proclamation designating May 15th as Peace Officers Memorial Day and the week that the 15th falls in as Police Week. This action took place in 1962. Police officers make sacrifices on a daily basis. These sacrifices often go unthanked. Police week is a good opportunity to come together and celebrate what they do
When police officers mourn a fellow police officer that has fallen they wear a black strip across their badge. This is known a a mourning band. and symbolize remembrance and mourning for police officers who have lost their lives in the line of duty.
Just like fallen soldiers deserve our respect and honor so do these officers. The brave officers that make the ultimate sacrifice to protect our safety deserve the greatest honor that we can bestow. A memorial to their memory is just a small tribute to their lives, service and sacrifice.
The date not only recognizes the peace officers that have fallen but also those that were injured in the line of duty. Men and women who serve on a daily basis putting their lives on the line. The families of these slain or injured officers have lost an important family member. Those that loved these officers are encouraged to tell their story so that their courage lives on.