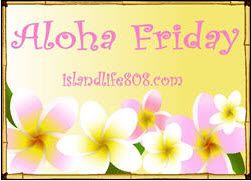 In Hawaii, Aloha Friday is the day that we take it easy and look forward to the weekend. So I thought that on Fridays I would take it easy on posting, too. Therefore, I'll ask a simple question for you to answer. Nothing that requires a lengthy response
Well, my son has left for college and he is doing great. He has started a new job, met a girl he really likes, loves his classes and his advisor, and gets along well with his room mate. As his mother he is still my little boy so I will be wanting to send him a care package sometime soon.
So today's question is: what would be good to send to my son in a care package? I can use all the help I can get on this as he is my first child that went to college
Now after you help me out head over to the blog an
Island Life
for more great questions as well as to ask your own.