Popcorn Ball Recipe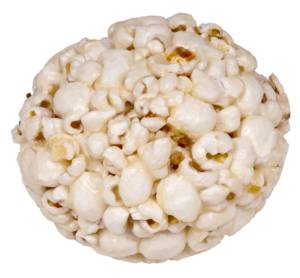 8 cups freshly popped plain popcorn (1/2 cup unpopped)
6 tablespoons butter
5 cups miniature marshmallows
food coloring, if desired
1. Prepare a large bowl with shortening, oil, or cooking spray. Place popped popcorn in the bowl. (The bowl needs to be large enough to allow stirring of the popcorn.) Prepare a length of wax paper.
2. Melt butter in a medium saucepan. Stir in marshmallows. Stir constantly until marshmallows are melted. Add food coloring, if desired, and continue to stir until thoroughly blended.
3. Pour marshmallow mixture over popcorn. Gently stir until the popcorn is evenly coated.
4. Coat your hands in shortening. Be very generous.
5. Using your greased hands or a greased, rounded measuring cup (like these), scoop up a cup of popcorn. Then use your hands to pack it together into a tight ball. If it sticks to your hands, then you didn't grease them enough. Place balls on wax paper for several hours.
6. Wrap each popcorn ball in plastic wrap or serve.
retweet recipe
here