Legend has it that butter chicken was created by a chef at the Moti Mahal restaurant. By mixing leftover tandoori juice with tomato and butter then tossing it with tandoori cooked chicken the dish was created. It seemed that the dish had a strong drawing with many fans that were wild about it.
Butter is used to cook leftover tandori chicken. If butter is not used then reheating will turn the meat dry and leathery. Butter can be thought of as the gravy that gets it all together. Butter chicken closely resembles another Indian inspired dish chicken tikka masala. If you are familiar with this dish the difference is that tikka masala will have a more complex layered flavor from spices but butter chicken tastes like butter with a milder sweeter gravy.
Butter chicken is one of the most popular Indian dishes in the world.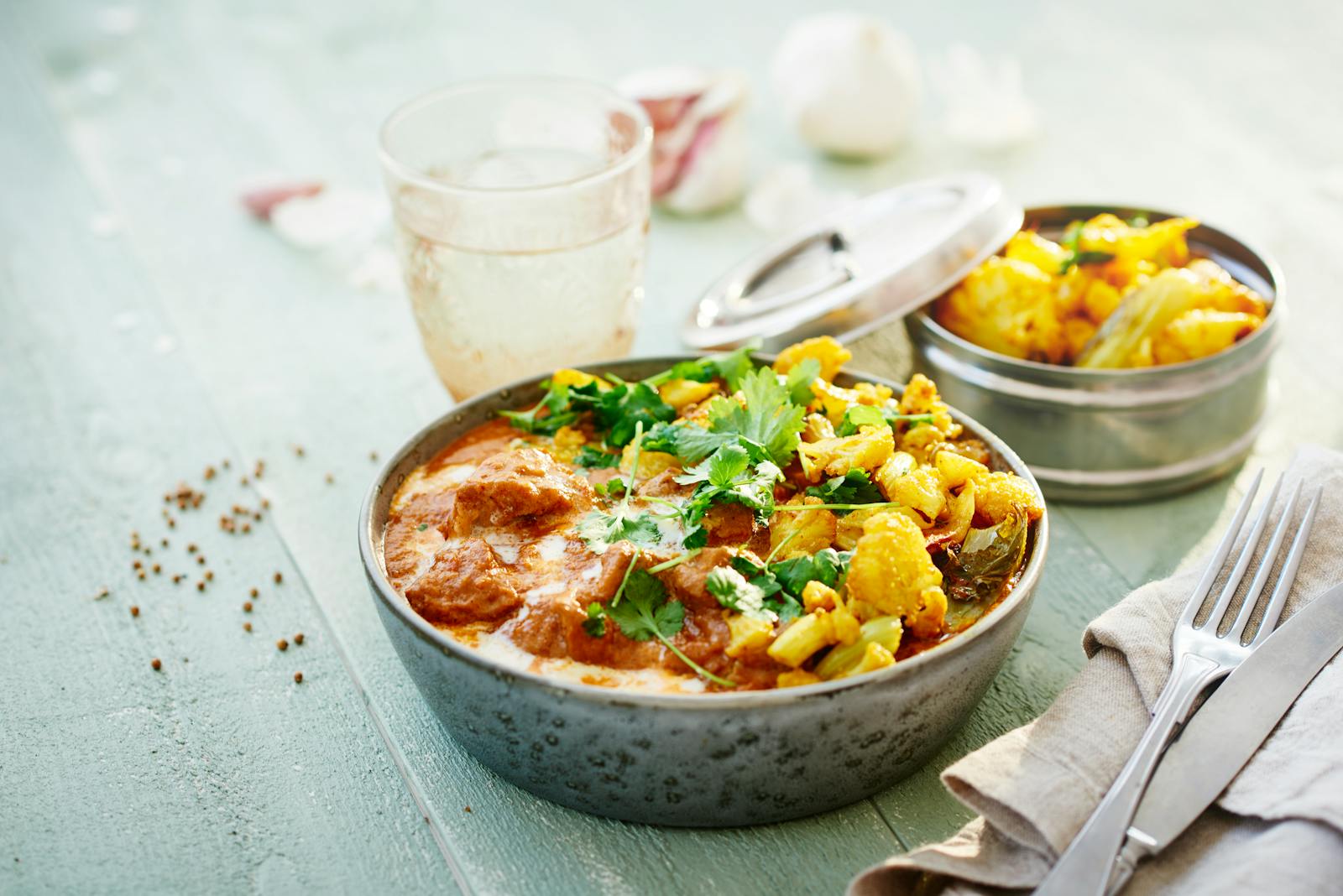 12⁄3 lbs boneless chicken thighs
1 tomato
1 yellow onion
2 tbsp fresh ginger
2 garlic cloves
1 tbsp tomato paste
1 tbsp garam masala seasoning
½ tbsp dried coriander (cilantro) leaves
½ tbsp chili powder
1 tsp salt
¾ cup heavy whipping cream
3 oz. butter or ghee
Oven-baked cauliflower
1 lb cauliflower
½ tsp turmeric
½ tbsp coriander seed
½ tsp salt
¼ tsp ground black pepper
2 oz. butter
Cut the chicken into bite-sized pieces.
Into a food processor, add tomato, onion, ginger, peeled and chopped garlic, tomato paste and spices. Blend until smooth. Add the cream and mix for a couple of seconds.
Marinate the chicken in the mixture for at least 20 minutes, but preferably more, in the refrigerator.
Place a large frying pan over medium high heat and add a third of the butter. Add the chicken in the pan and fry for a couple of minutes.
Pour the remaining marinade over the chicken and add the rest of the butter. Let simmer over medium heat for 15 minutes or until the chicken is fully cooked. Salt to taste.
Garnish with fresh cilantro and drizzle with a splash of cream.
Oven-roasted cauliflower
Preheat the oven to 400°F (200°C).
Trim the cauliflower and cut into small slices.
Spread them out on a baking tray, sprinkle over seasoning and butter. Bake for 15 minutes in the oven.
recipe resource
here
retweet post
here
shared on facebook
here
shared at these blog hops, parties and linkups
whats for dinner
shared at these facebook group linkups
blog and social media ct ---- 1/20 ---- 4 link ct
RT club --- 1/2 === 1 rt