It's Carnival time in Brazil. Many foods will be indulged upon and you can make some at home for your family as well. One simple recipe to create and share with your friends is Brigadeiros.
Brigadeiros is a traditional food served at kids birthday parties. You may also find them in Brazil. These small balls of condensed milk and cocoa covered with sugar sprinkles or nuts. A super easy recipe and great for the kids to help make as well.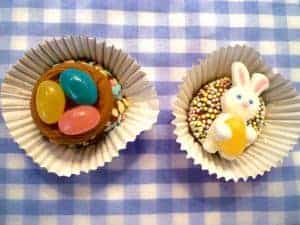 1 can sweetened condensed milk (400 g)
4 tbsp cocoa powder
Pinch of salt
3 tbsp butter
Few drops good vanilla extract
Chocolate sprinkles for decoration or your choice of small decoration such as nuts, coconut, etc...
Pour the condensed milk into your heaviest pot. Stir in the cocoa powder and the salt.
Cook, stirring constantly, over low heat. Keep the mixture barely at a boil to prevent burning and sticking.
Cook for 10-15 minutes, stirring, until mixture becomes very thick and shiny and starts to pull away from the bottom and sides of the pan.
Remove from heat and stir in the butter and the vanilla.
Chill in the for an hour.
Roll the mixture into 2.5 cm balls. I also made some mini ones, very tiny pop-in-melt-in-your-mouth treats, great for someone watching the calories or just to serve with coffee at the end of a meal.
Roll each ball in the chocolate sprinkles, and place in a paper liner.
Chill until ready to serve
Couple of tips before we go:
don't make the balls too big. It is better to be bite size because the treat will become quite sticky quickly in hands when held too long before eating
While there are some traditional brigadeiros this recipe should not be
These treats can be kept up to 5 days in the fridge which makes it a treat that can be made ahead of time before taking them to a potluck or party
shared at
a bountiful party