Chocolate has not always been so welcome in America. In the beginning chocolate was consumed primarily as a beverage. It was in the 1830's and 40's that chocolate cakes started to resemble those that we know today. It all began when a doctor and a chocolate maker teamed up in an old mill. Cocoa beans were ground up to make thick syrup. The liquid was then poured into molds shaped like cakes, these were meant to be transformed into beverage.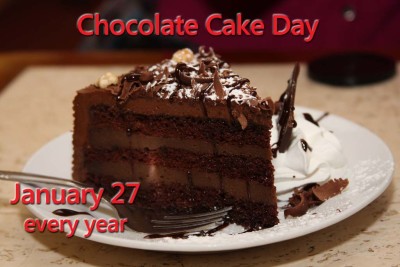 Chocolate is derived from the cacao tree. It is considered the "food of the gods' Chocolate was not always the treat as I shared all ready it was often made into a drink. The chocolate drink was also not very sweet and at times had been fermented. The Aztec's would make a chocolate drink that was often too bitter. Europeans sweetened this drink but it was still only that a drink.
Dutch cocoa was created in 1828 when a dutch chemist created a powdered chocolate. The process to create this cocoa involved removing some fat from the liquid chocolate. It would be Joseph Fry to create the chocolate bar by adding some cacao butter back to the chocolate paste. Both the Dutch chocolate and the chocolate bar for shaved curls are very important to delicious chocolate cakes.
Now days chocolate is available in many versions. Single layer chocolate cakes, Devils Food Chocolate Cakes or even individual cakes with warm liquid centers known as lava cakes. Flour less chocolate cakes are great for those who are gluten sensitives. Use a box mix to create a chocolate cake as well. Pillsbury was the leader on the chocolate box cake mix which appeared on shelves in 1948.
12 ounces of bittersweet chocolate
1 cup (2 sticks) plus 3 tablespoons butter, cut into chunks
1 cup sugar
6 eggs
1 cup unsweetened cocoa powder
1 tablespoon milk (optional)
1 tablespoon honey (optional)
1/4 teaspoon vanilla extract (optional)
vanilla ice cream (optional but highly recommended! )
Preheat your oven to 375 degrees. Spray a 9-inch springform pan with non-stick cooking spray, then line the bottom with a circle of parchment paper. Spray the paper with cooking spray as well, then set the pan aside.
Place 8 ounces of chocolate and 1 cup (2 sticks) of butter in a large microwaveable bowl. Melt the chocolate with the butter, stirring often, until completely blended. Add sugar and mix well. Then add your eggs, one at a time, whisking well after each addition. Sift your cocoa into the bowl and then stir until just blended.
shared at
Saucy Saturday