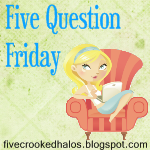 1. Is there something you've always wanted to try but just can't muster up the courage to actually do yet?
Yes there is I would love to speak in public leading a class of mothers one day. However, right now I stay behind the stage and just help where I can.

2. If you had $100 handed to you in cash without your significant other knowing about it, what would you spend it on?
While I would love to use it for some back yard goodies I would probably get to store and buy groceries and things for the teen

3. What was your favorite piece of playground equipment as a child?
the merry go round for sure

4. Do you prefer a sweet or hearty breakfast?

sweet hearty fills me up and I dont feel real good after it

5. Are you a Neat Freak or a Messy Bessy?
can I say an between? The teens are a bit messy so not everything is neat but I love to be neat and it drives me crazy when their is a mess