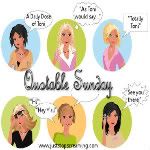 This week I share quotes about faith. It is by faith that we live. So enjoy the quotes that i share today;
The antidote to frustration is a calm faith, not in your own
cleverness, or in hard toil, but in God's guidance.
- Norman Vincent Peale
Faith isn't the ability to believe long and far into the misty future.
It's simply taking God at His Word and taking the next step.
- Joni Erickson Tada
Without faith a man can do nothing; with it all things
are possible.
- Sir William Osler
No matter how steep the mountain - the Lord is going to climb
it with you.
- Helen Steiner Rice