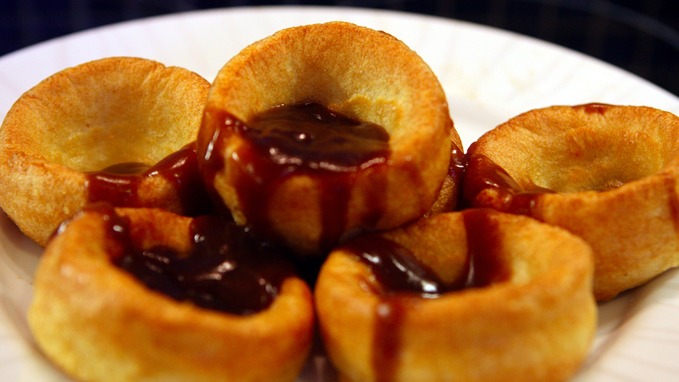 When we think of "pudding" we normally think of a sweet dessert. In the 1800's a pudding referred to a meat based dish. Meat was expensive and instead of being part of the main course it would be served before it. It was often served as a filling appetizer and with gravy.
Yorkshire pudding was derived from the pudding being cooked below the meat where the juices could drip down and be absorbed by the pastry.
Here are some recipes for Yorkshire pudding you may want to check out.
4
Medium free range eggs
0.5
Pint water
0.5
Pint full fat milk
4
oz
(
113.4
g
)
Plain flour
1
pinch
Salt
1
Tub of own choice favourite ice cream
1
Pot of strawberry conserve
1
handful
Icing sugar for dusting
For best results whisk all Yorkshire mix ingredients together in stainless steel or china bowl. Leave to rest for 4 hours
Pre heat oven to 200°C, gas mark 6. Heat muffin tins, 4 inch, with a coating of salad oil in oven for 3minutes, remove from oven, pour off excess oil and fill each hole to the brim with batter mix
Bake for 15 to 20 minutes, until golden brown. Remove from oven and set aside to keep warm
When ready to serve fill each pudding with a scoop of ice cream and top with a generous spoonful of strawberry conserve and dust with icing sugar to finish. Happy pudding eating!
recipe source
here
Fill pre made yorkshire pudding shells with pulled beef.
meatball and veggies in yorkshire pudding cup
These are just a few ideas. Have you ever enjoyed Yorkshire pudding?? How was it made did you like it. I would love to have any recipes you may have to share