The name of this dessert is "Pumpkin Dream Cake" Wow!!! October is all about pumpkin and now I have found a super yummy recipe to share as well. For those of you who prefer not to use cool whip, pumpkin pudding mix and flour that is ok because this version uses real cream, canned pumpkin and coconut flour / pecan crust.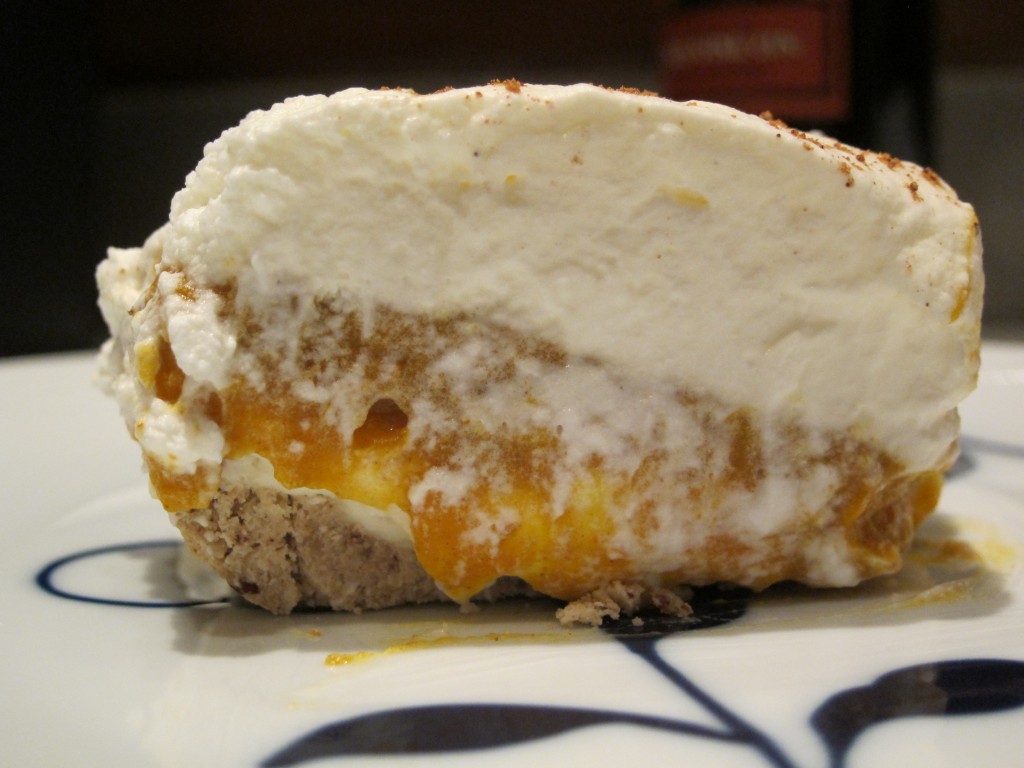 The crust recipe come s from Paleospirit.com.
Ingredients for a 9×13 pan:
1 1/2 cup coconut flour
3/4 cup toasted pecan halves
4 large eggs
8 tablespoons chilled pastured butter or coconut oil (I used butter)
2 tablespoons coconut sugar (I just used powdered sugar)
1/4 teaspoon fine sea salt
Combine the coconut flour, 1/2 cup pecan halves, fat (either pastured butter or virgin coconut oil), coconut sugar and salt in food processor and pulse until combined and pecans are finely chopped
Add the eggs and pulse until a dough is formed. If your dough isn't "wet" enough, try adding another egg
Spread the dough evenly into the bottom and sides of a greased 9×13 inch pan and top with some powdered sugar (optional)
Bake at 350 for approximately 20 minutes or until crust is set
Cool completely (I put mine in the fridge while I made the other ingredients)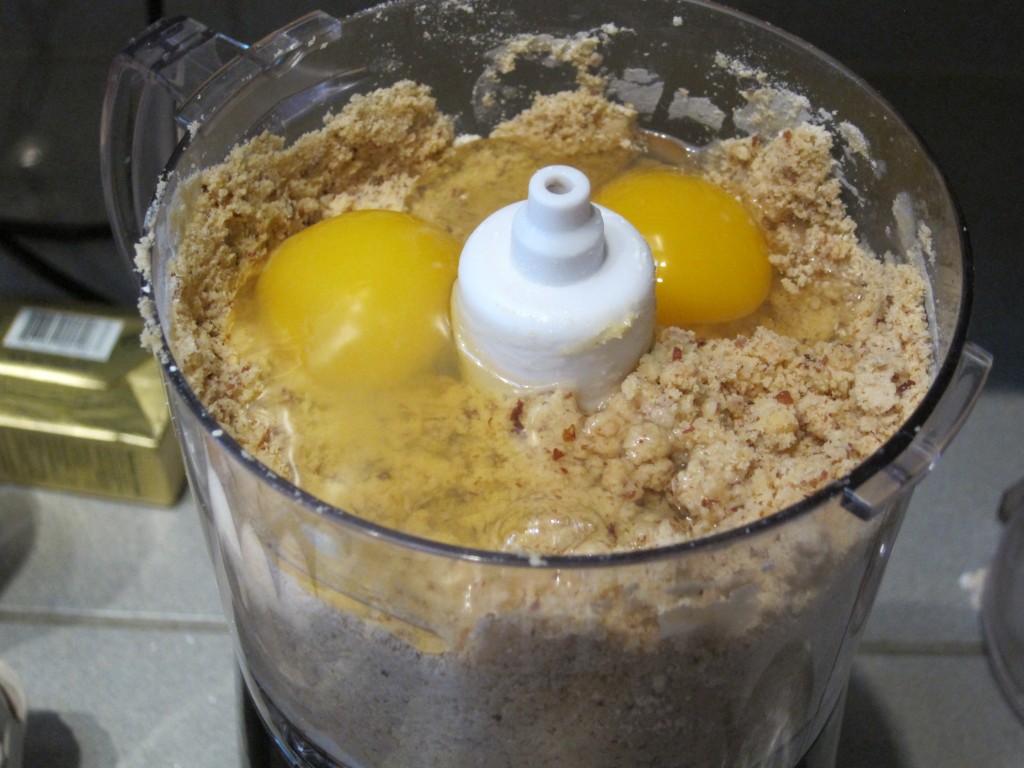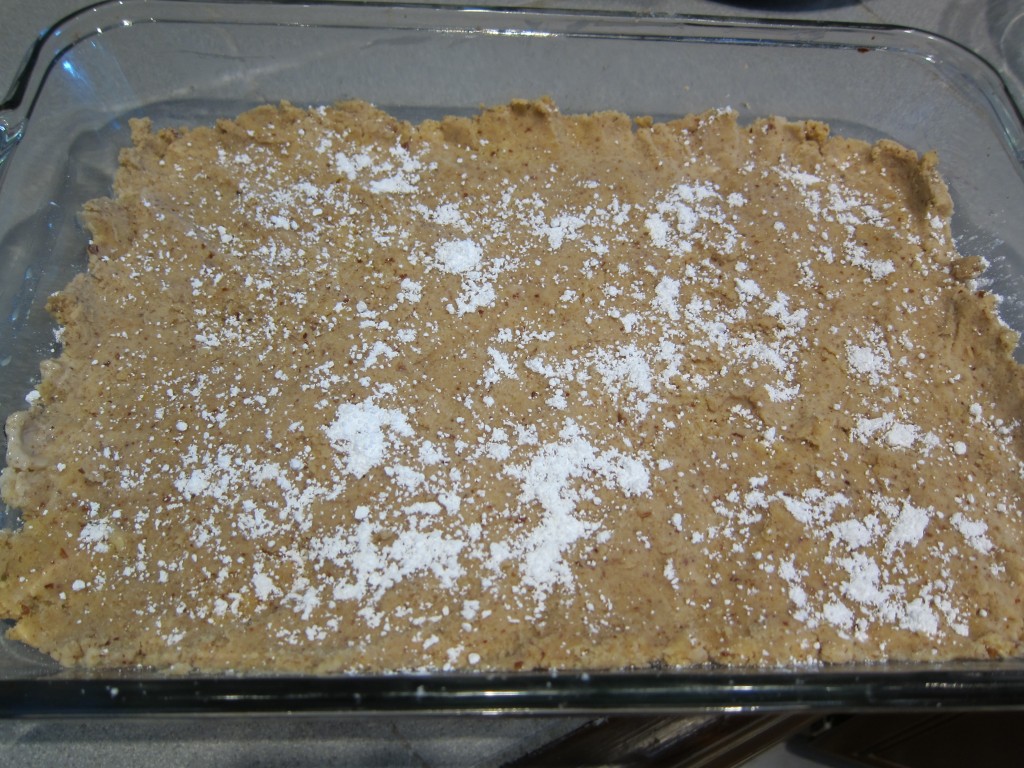 Cake Layers
3.5 cups heavy whipping cream
16 oz. cream cheese (at room temperature)
Two cans pumpkin puree (NOT pumpkin pie filling. You want the unsweetened stuff)
2 tbsp pumpkin pie spice (or some cinnamon, nutmeg and clove
1/2 – 1/5 cups powdered sugar (depending on how sweet you like it. I used minimal sugar and thought it was delicious)
Beat heavy whipping cream with 1/4 cup powdered sugar (or however much you want for taste) until smooth and creamy
Place whipped cream in a separate bowl
Beat cream cheese and 1.5 cups whipped cream until smooth. Add some powdered sugar if it's not sweet enough for your taste.
Spread cream cheese mixture on top of the crust. Make sure the crust is totally cool or the heat will melt the whipped cream.
Next, mix the two cans of pumpkin puree, 1/2 cup whipped cream and spices until smooth. Spread over cream cheese layer. (here's what the canned pumpkin we use looks like from Trader Joe's)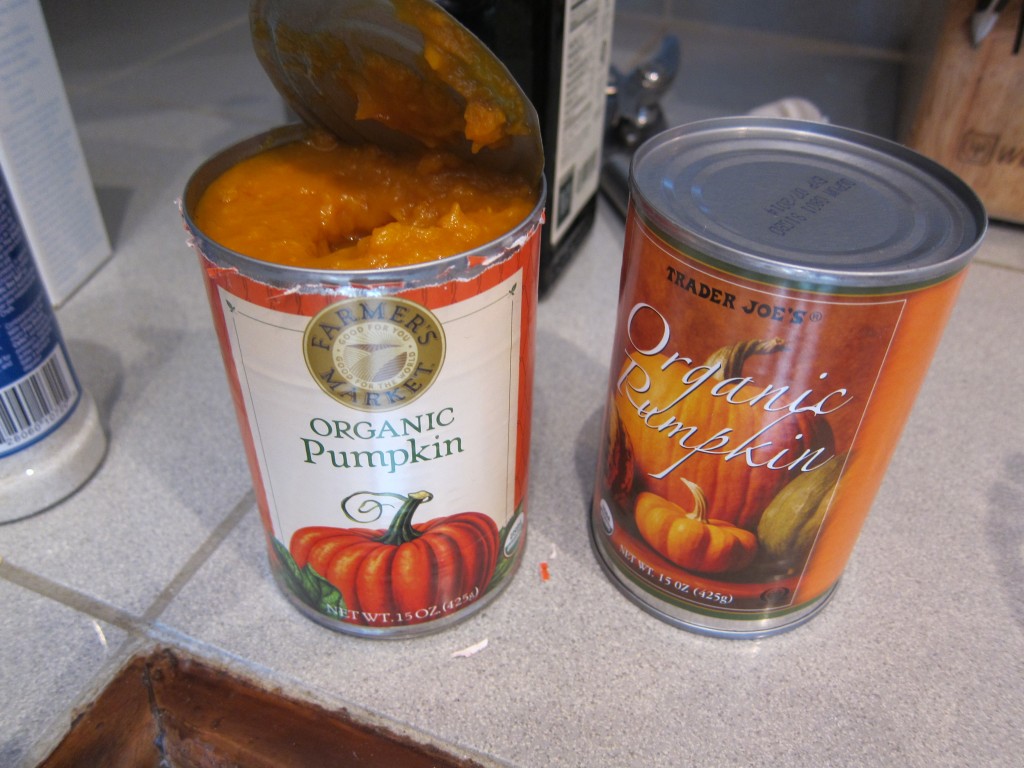 For the final layer, just top the cake with the rest of the whipped cream until smooth and top with a sprinkling of nutmeg for looks.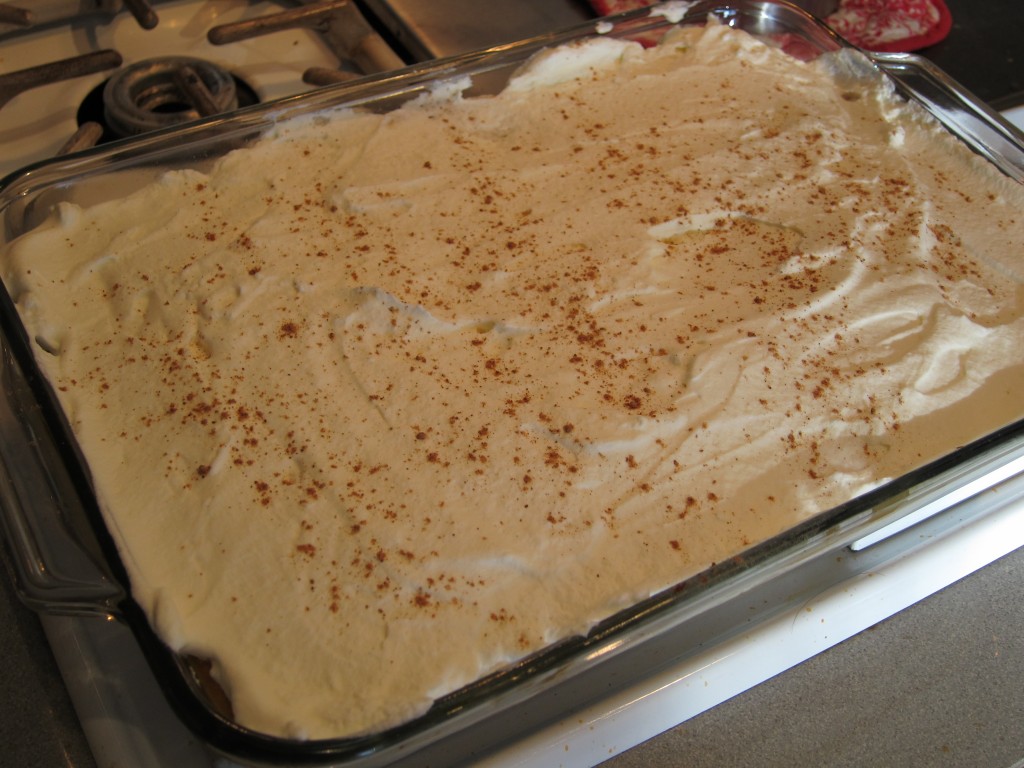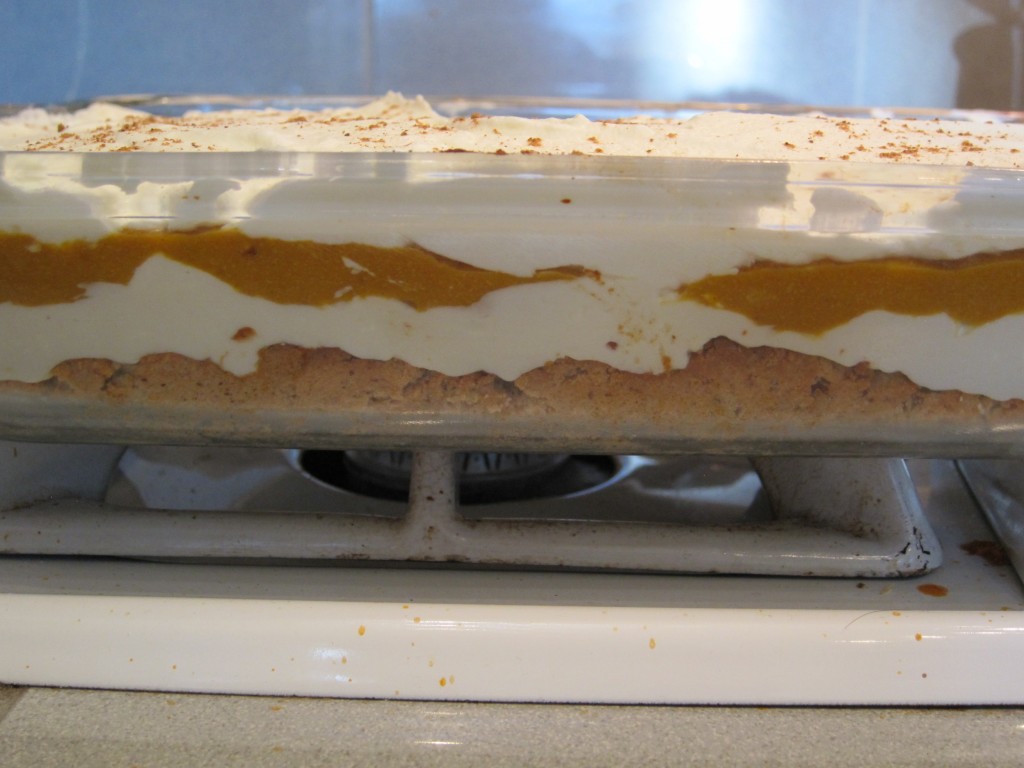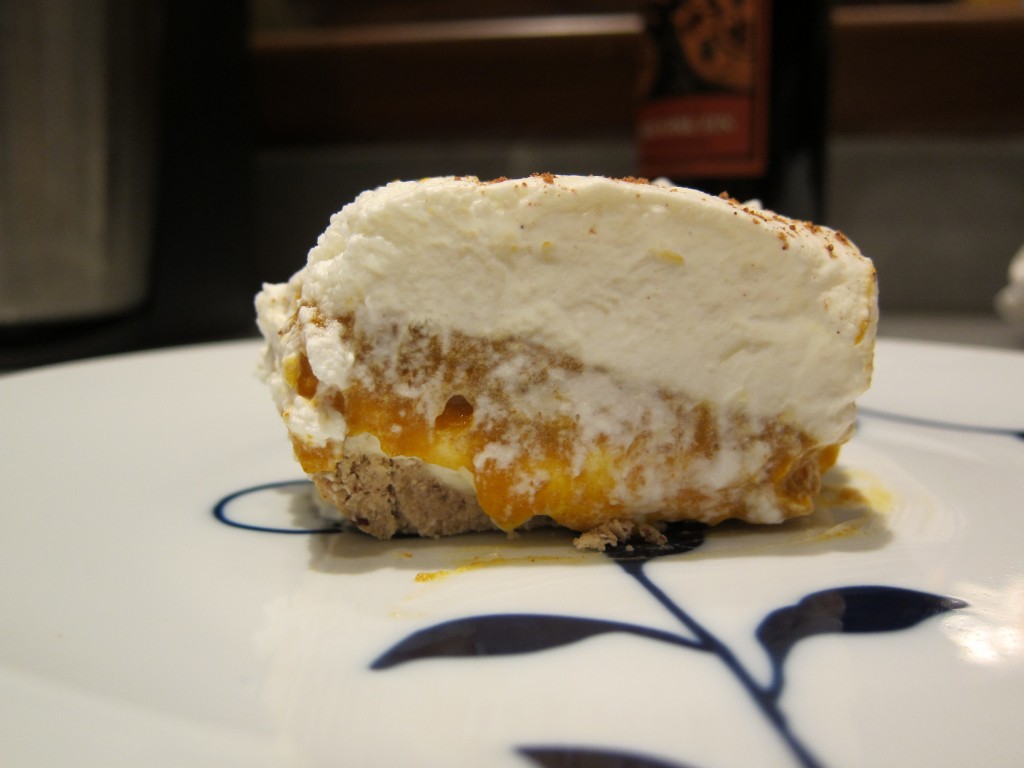 We really enjoyed this dessert and will be making it again soon. It went too quickly! (probably because Luke took an entire row to work for his lunch lol)