Lacquered Angel Food Cake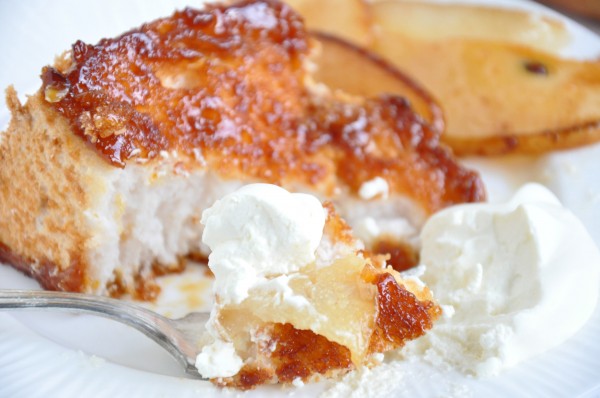 Left-over slices of Angel Food cake
Granulated sugar
Butter
Slices of pear or apple (optional)
Whipped Cream
Heat a large skillet over medium-high heat until hot. Sprinkle about 6 tablespoons of granulated sugar into the skillet. Shake the pan to evenly distribute the sugar across the surface of the pan. Once the outer edge of sugar has started to melt and turn amber in color, stir with a wooden spoon until all the sugar has dissolved.
Add about 2 tablespoons of butter to the skillet and stir to combine. Add 3 or 4 slices of angel food cake to the pan and reduce the heat to medium-low. Cook, turning the cake slices over and over, using a second utensil along with the wooden spoon, until the cake is fully coated with a dark amber glaze. This will take approximately 2 to 3 minutes.
Remove the cake slices to serving plates. If serving with fruit, add the slices of pear or apple to the skillet. Over medium-high heat, quickly cook the fruit until it softens slightly and picks up some of the remaining caramelized sugar from the bottom of the pan. Serve immediately alongside the cake slices and some whipped cream.