This cheesy make ahead casserole is one that can help make your life a bit easier. Prepare it the night before and then cook when needed. The real reason I love this recipe besides the ease is the great taste. Not only will you want to fix it for your family but also take it to any potluck or gathering you need a covered dish for.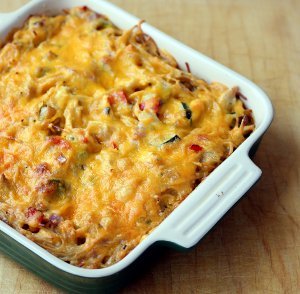 1 whole raw chicken, about 5 lbs, cut into pieces
1/2 red pepper, diced small
1/2 green pepper, diced small
1/2 medium zucchini, diced small
1 medium red onion, diced small
3 cloves garlic, minced
1 tbsp olive oil
1 pound spaghetti, broken into 2 inch pieces
2 cans cream of mushroom soup
3 cups grated sharp cheddar cheese, divided
1 tsp season salt
1/4 tsp cayenne pepper
salt and pepper to taste
Bring water to a boil, reduce heat and simmer at a low bubble for about 30 minutes, until chicken is cooked through. Remove chicken from pot and allow to cool. Once chicken is cool enough to handle, shred enough chicken for a 2 generous cups.
Remove 2 cups of the cooking liquid from the pot and reserve for later.
Bring the remaining liquid in the pot back to a boil. Cook pasta for about 8 minutes, until al dente. Drain and set aside.
Meanwhile, heat olive oil in a large skillet over medium heat. Add green and red pepper, zucchini, onion and garlic. Season lightly with salt and pepper. Saute for about 5 minutes until veggies are softened.
In a large mixing bowl, combine, veggies, chicken, pasta, cream of mushroom soup, 1 1/2 cups of the cheese, season salt and cayenne pepper. Mix until combined. Stir in 1 cup of the reserved cooking liquid until well combined. Stir in as much of the remaining liquid as needed to make the sauce creamy. You don't want it to be too dry. Add salt and pepper to taste.
Spoon mixture into either 1 – 9×13 baking dish (that's been coated with cooking spray) or 2 – 8×8 baking dishes. Sprinkle remaining 1 1/2 cups of cheese over the top.
Bake for 30 to 45 minutes in an oven preheated to 350 degrees, until bubbly and cheese is golden brown. Or you can cover with foil and refrigerate for up to 2 days or freeze for up to 6 months. If you bake this immediately, it will probably take closer to 30 minutes to bake. If the casserole is cold when you bake it, it will probably take closer to 45 minutes to bake.