A full email inbox can be overwhelming. The volume of email that we receive can be more than we can handle. The problem will only get worse if you do nothing about it . So why not get your inbox under control and start the year off free from that tonnage of email.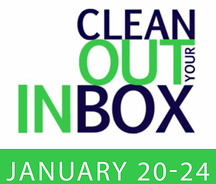 One group, The Radicati Group, estimates that in 2015 the number of emails sent and received per day total over 205 billion. The problem just increased over time reaching in 246 billion by 2019. For many of us this means that "email hoarding" will take place. However, you can put a stop to the madness by following a few guidelines:
Unsubscribe from emails you no longer wish to receive
Delete google alerts you don't need
Delete old emails you no longer need
Create folders and only file important emails
delete 30 to 50 emails a day
These few steps will help to reduce the email pile and help make your social life easier.
retweet post
here
shared at these blog hops, linkups and parties
merry monday
shared at these facebook groups