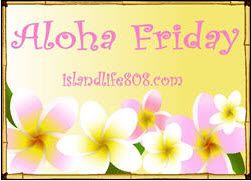 Aloha Friday as explained by the host blog An Island Life:
In Hawaii, Aloha Friday is the day that we take it easy and look forward to the weekend. So I thought that on Fridays I would take it easy on posting, too. Therefore, I'll ask a simple question for you to answer. Nothing that requires a lengthy response.

If you'd like to participate, just post your own question on your blog and leave your link below. Don't forget to visit the other participants! It's a great way to make new bloggy friends!

With Thanksgiving coming my mind turns to past Thanksgivings where we have both hosted and visited others. So my question for you is:
What are your thanksgiving Plans for 2009?
We will be hosting this year my entire family all are invited we will see how many come I hope to get lots of pictures to share