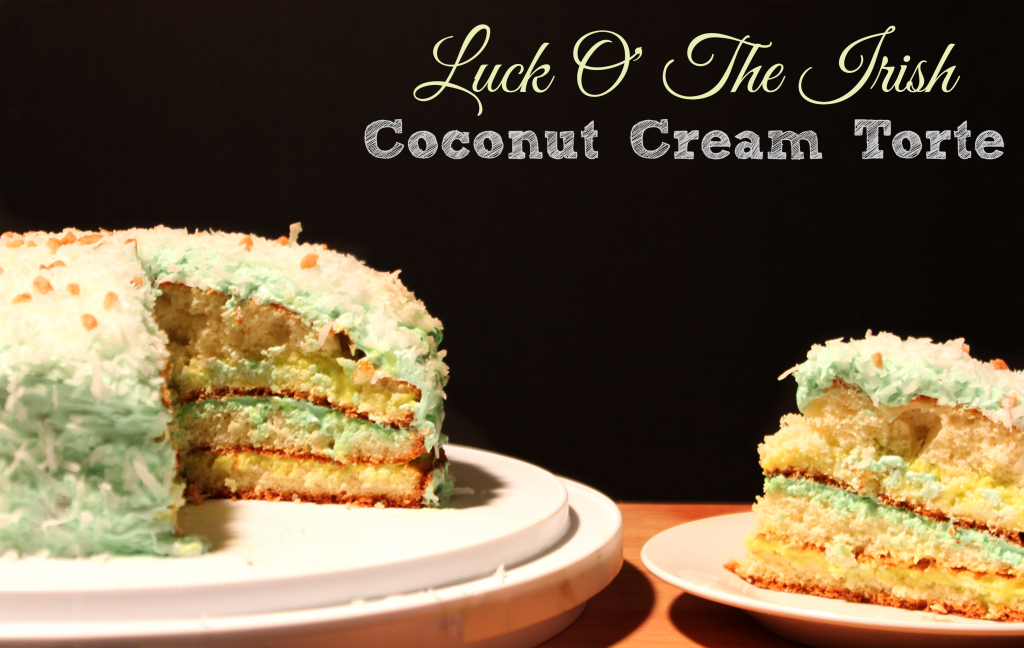 I love coconut, whether in fruit salads, pies or simply by itself. There are some that do not like coconut in our family and for them I feel sorry for. For me however, I claim their piece of the sweet lol. This delicious recipe I found when I did a search for a
coconut torte recipe
. After all it is coconut torte day and since I did not have a favorite recipe I looked for one that was festive and delicious.
National Coconut Torte Day | Luck O' The Irish Coconut Cream Torte
1 box super moist white cake mix
1 cup water
1/3 cup canola oil
3 large eggs
1 container fluffy white frosting
Green food coloring, normal green and neon green
1 (3.4 ounce) packet instant pudding in coconut cream flavor
Sweetened shredded coconut flakes
Toffee pieces
Preheat oven to 350*F. Grease or spray two 9-inch round cake pans.
Cook cake mix according to package directions, with water, canola oil and eggs.
Once cakes have cooled, cut each in half horizontally using a serrated knife, to form 4 round cakes.
In a medium bowl, prepare instant pudding according to package directions. Add desired drops of neon green food coloring and set aside. In a separate medium bowl, empty frosting and add desired drops of normal green food coloring.
To assemble, cover the top of one cake layer with pudding and the second cake layer. On top of the second cake layer, spread a layer of green frosting, followed by a third cake layer. Spread more pudding on top of the third layer, followed by the fourth and final cake layer. Ice the cake like normal. Top with shredded coconut flakes and a sprinkling of toffee pieces.
shared at